Making Progress
A nationwide Fabian Society/YouGov poll suggests that 2.7 million older voters who did not back the party in 2019 are considering voting for it at the next election
As Labour party conference begins, a new Fabian Society and YouGov poll shows Labour is making some progress in persuading older voters that it can be trusted to govern the country. 
The Fabian Society commissioned a GB-wide poll from YouGov, with a sample size large enough to draw out and analyse responses from a sub-group of people aged 55 and over. The survey was conducted between 14 and 16 September.
We found that 13 per cent of people aged 55 and over (representing 2.7 million people in the voter eligible population) did not vote Labour in 2019 but now say there is a good chance they will. This key group of voters was first identified in the Fabian Society report A Mature Approach, which you can access here. 
This voter group of 'Labour's new considerers' has increased in size slightly since a previous poll in December 2021, when they made up 10 per cent of over-55s (although the change is not statistically significant). 
In 2019, Labour's support amongst older voters reached a record-breaking low. Ipsos MORI's post-election estimate of how Britain voted found that just 17 per cent of voters aged 65 and over, and 27 per cent of voters aged 55 to 64 voted for the party. 
Older voters matter because our research has found that Keir Starmer will not be prime minister without them. They are numerous, they turn out to vote, they live in the places Labour needs to win, they mainly vote Conservative at the moment, and many share values with Labour's existing voter coalition.
It is good news that such a large number of older voters are considering voting for the party. But Labour has not yet 'sealed the deal' with them. Our poll also asked respondents to choose whether the Labour party or the Conservative party would handle a series of 22 topics better, or whether they would be the same. Among people aged 55 and over overall, Labour led on half (11 of 22) even though it is well behind when it comes to voting preferences.
Labour leads the Conservatives on key issues such as 'inequality between different parts of the country', 'improving the lives of older people', 'the NHS' and 'increasing living standards for people like you'.
Figure 1: More people aged over 55 favoured Labour than the Conservatives on 11 of 22 policy issues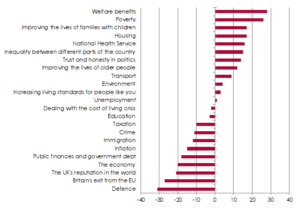 Labour is well behind the Conservatives with over-55s on other vital issues, including immigration and defence. But while Labour is behind on crime, public finances and debt, inflation, and the economy, the party has closed the gap – although more work is needed. 
Figure 2: Labour has narrowed the Conservative lead with over-55s on key policy issues.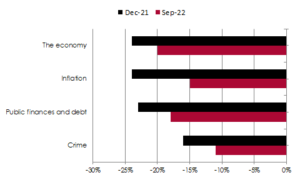 The new Fabian Society/YouGov polling shows that Labour has made progress with older voters, compared to the 2019 general election. But there is still a long way to go. As Labour gathers for its conference, it needs to focus on showing its 2.7 million over-55 'considerers' that the party can be trusted to govern and can provide an alternative that they can believe in. If Labour can do this, it will win the next election. 
Photo: Milly Sime/Unsplash