Moving the marginals
A nationwide Fabian / YouGov poll indicates Labour is ahead in a group of 125 target seats it needs to win in England and Wales
Labour is moving forward as we head into the new year. In a series of nationwide polls over recent weeks the party has taken a clear lead over the flailing Tories. Now a new Fabian Society and You Gov survey shows this is translating into a strong lead in the 125 seats in England and Wales that Labour needs to win.
The Fabian Society commissioned a GB-wide poll from YouGov with a specially-commissioned sub-group of the 125 seats in England and Wales where Labour came closest to winning in 2019. The survey was conducted on 8 to 13 December before the North Shropshire byelection and 668 people living in the Labour target seats took part.
We found that Labour leads the Conservatives by nine percentage points in the 125 seats (Labour 43, Conservative 34). By contrast, at the 2019 election the Conservatives led in these seats by 12 points (Labour 37, Conservative 49).
This is a swing of over ten percentage points and at an election would translate into Labour gaining around 100 of these target seats and ending up with roughly 300 MPs (according to Fabian analysis of the 2019 election results). The GB-wide result in the same poll was Labour 38, Conservative 31.
Labour's 125 target seats are made up of 58 constituencies the party has held at some point during the 11 years it has spent in opposition, and 67 seats the party lost in 2010 or before, or has never held at all. Data from the Fabian Society / YouGov poll shows the party is performing similarly in the two groups of constituencies: in the target seats the party lost in 2015, 2017 or 2019 Labour is leading by 10 points (Labour 44, Conservative 34); and in those it has not held recently the lead is 9 points (Labour 43, Conservative 34).
However, the swing towards Labour since the last election is higher in the target seats the party has not recently held, because on average Labour did worse in these places in 2019. The swing in target seats lost in the past three elections is 9½ percentage points; in seats not held in recent years it is 11½ points.
This indicates that Labour is moving forward a little more in towns and suburbs that are not familiar Labour territory, compared to the seats that fell most recently. Polling data on recently lost 'red wall' seats that excludes target seats Labour has not held for some time therefore understates the party's recent progress.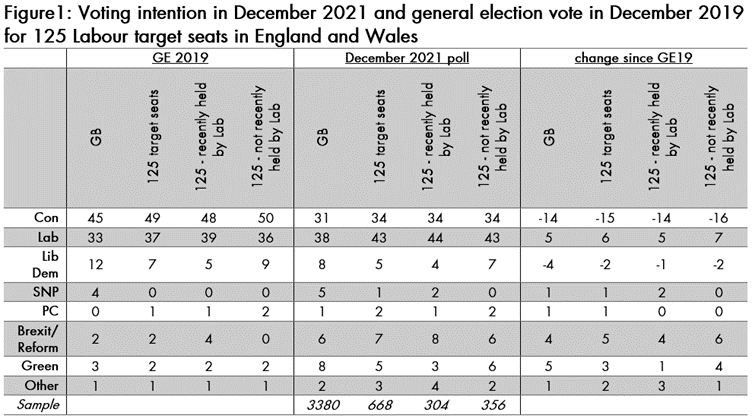 However, there is still reason for Labour caution. The data from this poll found that target seat voters are evenly split about whether or not Keir Starmer has taken Labour in the right direction.  In the 125 seats, 30 per cent of people said Labour was moving in the right direction, 29 per cent said it was going in the wrong direction and 41 per cent said they weren't sure (the GB-wide figures were right direction 27, wrong direction 28, not sure 45).
With swing seat voters divided about Labour's progress, and high numbers without a view, the party still has much to do. This is particularly true in target seats lost in 2015, 2017 and 2019. 27 per cent of people living in recently lost target seats thought Labour was going in the right direction, compared to 33 per cent living in the target seats the party has not held during its time in opposition.

It's also important to note that the Conservatives have lost more support in these 125 seats than Labour has yet gained. Under Boris Johnson the Tories seem to be doing absolutely everything they can to lose the next election. The prime minster is fast moving from their greatest electoral asset to their biggest liability. The Downing Street Christmas party stories, coming on the heels of the Owen Patterson affair, have highlighted a Tory culture of "one rule for us" that is cutting through to a weary electorate.
However, Labour have not earned a right to be complacent – or even comfortable. This data shows there is still work to be done to convince savvy swing seat voters that Keir Starmer is taking his party in the right direction.
To win the next election Labour will have to stitch together a diverse electoral coalition, just as the Tories did in 2019. The 125 seats in England and Wales the party needs to target have as many differences than similarities, as the recent Fabian report Winning 150: understanding Labour's target seats showed.
The party is currently having a bit more success in places where Labour has not held office for some time, compared to those iconic Red Wall seats, many of whose voters felt abandoned by the party in 2019 and before. So many voters with the most recent experience of a Labour MP still need convincing to return.
Labour must redouble its efforts in marginal seats of every kind. But there is room to be cheerful. After a well-received reshuffle and weeks spent goading the wounded prime minister, Labour has started to feel like a government in waiting. It is early days, and governments that suffer mid-term blues do not always go on to lose elections. Far from it. But Labour have reason to be optimistic this Christmas, as long as the party remains honest about the still hard road ahead.
This article is part of the Fabian Society's Winning 150 project