A Convenient Truth: A better society for us and the planet
Politics can provide us with a different future and the transition to environmental sustainability is not only within our grasp, but will be better for all of us.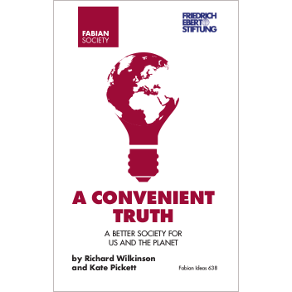 A Convenient Truth
22 September 2014
There has never been such a crying need for a bold vision of the future. If we fail to reverse the policies that have been driving climate change, we face disaster on a world scale. Yet since the 1980s, radical politics has lost its vision of how to create a qualitatively better society for everyone and lost the ability to inspire.
In 'A Convenient Truth' Richard Wilkinson and Kate Pickett set out a path towards a society that's better for us and the planet. Inequality drives status insecurity, which fuels the consumerism that is destroying our planet. But the things we buy aren't making us any happier: the link between economic development and real improvements in quality of life is broken in rich societies.
For real improvements in wellbeing, we need a more equal society, which is best achieved by putting democracy at the heart of the economy. Indeed, the authors see the extension of democracy into economic institutions as the next major step in the long project of human emancipation.
You can purchase a copy of A Convenient Truth online here or join the Fabians today to receive a free copy
Download

now
How to purchase
Copies are available, priced £9.95, from the Fabian Society. Call 020 7227 4900, email or send a cheque payable to The Fabian Society to 61 Petty France, London, SW1H 9EU.
Fabian membership
Join the Fabian Society today and help shape the future of the left
You'll receive the quarterly Fabian Review and at least four reports or pamphlets each year sent to your door
Be a part of the debate at Fabian conferences and events and join one of our network of local Fabian societies
Join

the Fabian Society
Be the first to know
Sign up to the free Fabian Society newsletter
Find out about the latest Fabian Society research, publications and events with our regular updates
Sign

up today
Fabian

Society