A Sense of Belonging: Building a more socially integrated society
This collection of essays provides ideas from the left and right on how best to create an inclusive, modern citizenship for us all.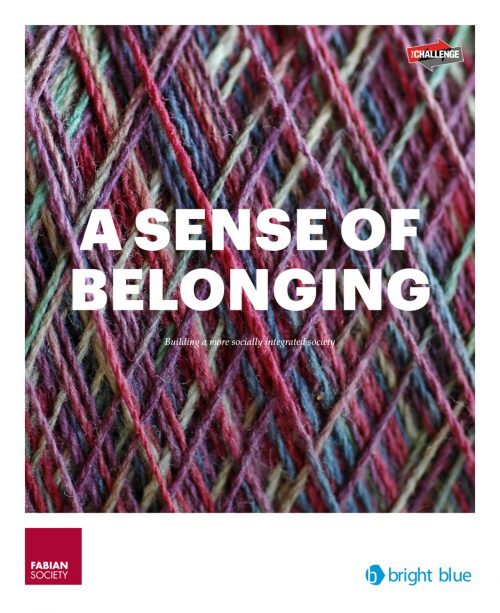 A Sense of Belonging
15 December 2016
With the launch of the Casey Review sparking fresh debate about immigration and integration, this report brings together politicians from across the political divide and leading thinkers to argue that integration should be a top priority in the post-Brexit world.
Dame Louise Casey, Lord O'Shaughnessy and MPs Chuka Umunna and Suella Fernandes are joined by key policy experts in a report published by the Fabian Society and Bright Blue, in partnership with the country's leading social integration charity,The Challenge.
Together they map out a fresh path for integration initiatives in the UK. Integration needs to be better defined and effective policies need to focus on more than race and ethnic background. They should also include age and social background in a bid to promote community cohesion.
Download

now
Think tanks from the right and left of politics spend a lot of their time arguing with each other. But there is plenty we agree on too, and the need for social mixing and a shared common life is something that...
How to purchase
Copies are available, priced £9.95, from the Fabian Society. Call 020 7227 4900, email or send a cheque payable to The Fabian Society to 61 Petty France, London, SW1H 9EU.
Fabian membership
Join the Fabian Society today and help shape the future of the left
You'll receive the quarterly Fabian Review and at least four reports or pamphlets each year sent to your door
Be a part of the debate at Fabian conferences and events and join one of our network of local Fabian societies
Join

the Fabian Society
Be the first to know
Sign up to the free Fabian Society newsletter
Find out about the latest Fabian Society research, publications and events with our regular updates
Sign

up today
Fabian

Society