Common ground?: An analysis of the Liberal Democrat and Labour programmes
In the run-up to the 2015 election, with the possibility of another coalition on the horizon, what shape would an alliance between Labour and the Liberal Democrats take?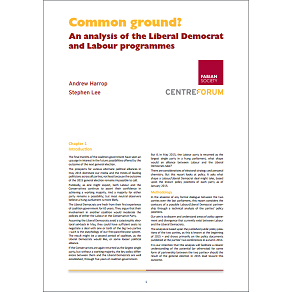 Common ground?
4 February 2015
The final months of the coalition government have seen an upsurge in interest in the future possibilities offered by the outcome of the next general election.
The prospects for various alternate political alliances in May 2015 dominate our media and the minds of leading politicians across all parties; not least because the outcome of the 2015 general election remains impossible to call.
Publically, as one might expect, both Labour and the Conservatives continue to assert their confidence in achieving a working majority. And a majority for either party remains a possibility; but most neutral observers believe a hung parliament is more likely.
The Liberal Democrats are fresh from their first experience of coalition government for 65 years. They argue that their involvement in another coalition would moderate the policies of either the Labour or the Conservative Party.
Assuming the Liberal Democrats avoid a catastrophic electoral set-back in May, they could have sufficient seats to negotiate a deal with one or both of the big two parties – such is the psephology of our first-past-the-post system. The result might be a second period of coalition, as the Liberal Democrats would like, or some looser political alliance.
If the Conservatives are again returned as the largest single party, but without a working majority, the key policy differences between them and the Liberal Democrats are well established, through five years of coalition government. But if, in May 2015, the Labour party is returned as the largest single party in a hung parliament, what shape would an alliance between Labour and the Liberal Democrats take?
Download

now
Fabian membership
Join the Fabian Society today and help shape the future of the left
You'll receive the quarterly Fabian Review and at least four reports or pamphlets each year sent to your door
Be a part of the debate at Fabian conferences and events and join one of our network of local Fabian societies
Join

the Fabian Society
Be the first to know
Sign up to the free Fabian Society newsletter
Find out about the latest Fabian Society research, publications and events with our regular updates
Sign

up today
Fabian

Society