Letting in the Light: Lessons from Labour's police and crime commissioners
Labour's police and crime commissioners have worked hard to get the most benefit for the public from the role, even as funding for police and community safety has been cut. Here they set out their experiences.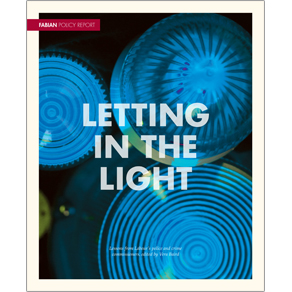 Letting in the Light
4 August 2014
This report highlights policies currently being implemented by the 13 Labour police and crime commissioners, who are responsible for all the Metropolitan Police forces in England and Wales (bar London).
It contains contributions from:
Alun Michael (South Wales) on doing more with less, while continuing to support communities and taking a whole person view of crime
Mark Burns-Williamson (West Yorkshire) on reinvesting the confiscated proceeds of crime in local communities
Ron Hogg (Durham) on tackling drug addiction
Shaun Wright (South Yorkshire) on reoffending and restorative justice
Tony Lloyd (Greater Manchester) on supporting those suffering with mental health issues
Clive Grunshaw (Lancashire) on early intervention and prevention
Paddy Tipping (Nottinghamshire) on reducing alcohol related crime
Jane Kennedy (Merseyside) on supporting victims of domestic violence
Vera Baird (Northumbria) on embedding support for victims of sexual and domestic violence
Alan Charles (Derbyshire) on raising the profile of wildlife crime
Bob Jones (West Midlands) on working in partnership to reduce transport crime
Olly Martins (Bedfordshire) on joint working between police forces
Barry Coppinger (Cleveland) on the wide range of activities of a police and crime commissioner
Download

now
How to purchase
Copies are available priced £4.95 from the Fabian Society bookshop – call 020 7227 4900,
email
or send a cheque payable to "The Fabian Society" to 61 Petty France, London, SW1H 9EU.
Fabian membership
Join the Fabian Society today and help shape the future of the left
You'll receive the quarterly Fabian Review and at least four reports or pamphlets each year sent to your door
Be a part of the debate at Fabian conferences and events and join one of our network of local Fabian societies
Join

the Fabian Society
Be the first to know
Sign up to the free Fabian Society newsletter
Find out about the latest Fabian Society research, publications and events with our regular updates
Sign

up today
Fabian

Society