Silent Majority: How the public will support a new wave of social housing
New social housing in the UK is a popular idea, as this research shows.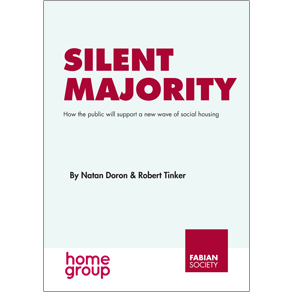 Silent Majority
2 September 2014
That Britain needs new homes is something all political parties can agree on. There are many reasons for the failure of consecutive governments to build enough homes in the UK, but an often-cited explanation is that there is not widespread public support for social housing.
Silent Majority reveals that in fact the majority of the general public are in support of building more social housing. This research confirms that there is still considerable stigma attached to this type of tenure, but this itself does not equate with opposition to building more social housing. The authors argue that the failure to understand this important distinction has constrained housing  policy and contributed to the current housing crisis.
The report also demonstrates that the public are aware of the deep-seated problems with the housing market, although there is confusion over what the precise problems are. There is a real mandate for change, but politicians and campaigners must first define the housing crisis in popular terms, giving voice to the silent majority in support of social housing.
Download

now
Fabian membership
Join the Fabian Society today and help shape the future of the left
You'll receive the quarterly Fabian Review and at least four reports or pamphlets each year sent to your door
Be a part of the debate at Fabian conferences and events and join one of our network of local Fabian societies
Join

the Fabian Society
Be the first to know
Sign up to the free Fabian Society newsletter
Find out about the latest Fabian Society research, publications and events with our regular updates
Sign

up today
Fabian

Society