The Coalition and Universalism: Cuts, targeting and the future of welfare
This report analyses data from the 1970s to the 1990s for 11 OECD nations and shows that, counter-intuitively, welfare systems which are tightly targeted to low income groups tend to reduce poverty less. A system's success in poverty reduction is instead related to the overall amount of expenditure. By Andrew Harrop January 2012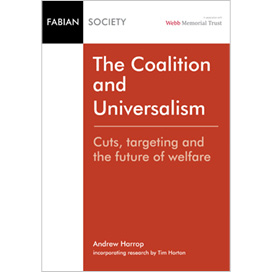 The Coalition and Universalism
14 January 2012
The coalition government's policies to restrict the coverage of  universal services and welfare payments have been very controversial, in part because they raise questions about the fundamental nature of the British welfare state. Universalism matters for poverty prevention because it generates majority public support for welfare spending, sustaining generous provision over time and aligning the interests of low, middle and high income groups.
This report analyses data from the 1970s to the 1990s for 11 OECD nations and shows that, counter-intuitively, welfare systems which are tightly targeted to low income groups tend to reduce poverty less. A system's success in poverty reduction is instead related to the overall amount of expenditure. So the inefficiency of universal systems from a poverty-reduction perspective is more than offset by the higher expenditure they typically secure because of their wider public support.
This research forms part of the Fabian Society project 'Fighting Poverty and Inequality in an Age of Affluence', made possible by support from the Webb Memorial Trust.
---
You can buy a printed copy edition of "The Coalition and Universalism" for £5, plus £1 p+p, by phoning the Fabian Society bookshop on 020 7227 4900, emailing us at bookshop@fabian-society.org.uk or send a cheque payable to "The Fabian Society" to 11 Dartmouth Street, London, SW1H 9BN.
You can receive this publication free if you join the Fabian Society today. Once you become a member, you'll receive two free pamphlets immediately and will get a copy of the Fabian Review magazine and our latest pamphlet every quarter. Click here to find out more about joining the Fabian Society.
Download

now
How to purchase
Copies are available, priced £9.95, from the Fabian Society. Call 020 7227 4900, email or send a cheque payable to The Fabian Society to 61 Petty France, London, SW1H 9EU.
Fabian membership
Join the Fabian Society today and help shape the future of the left
You'll receive the quarterly Fabian Review and at least four reports or pamphlets each year sent to your door
Be a part of the debate at Fabian conferences and events and join one of our network of local Fabian societies
Join

the Fabian Society
Be the first to know
Sign up to the free Fabian Society newsletter
Find out about the latest Fabian Society research, publications and events with our regular updates
Sign

up today
Fabian

Society