This Woman Can: 1997, women and Labour
Twenty years on from 1997, it is time to reassess the legacy of an election which transformed our politics for women. Featuring contributions from the 1997 generation, as well as those who followed in their footsteps.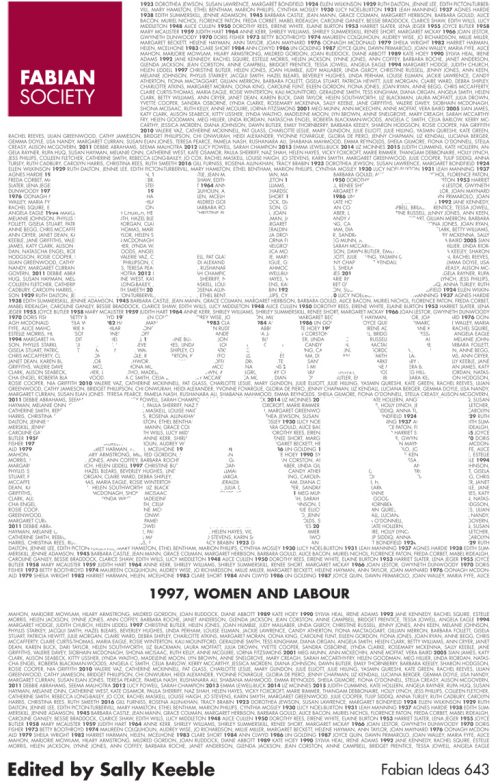 This Woman Can
7 April 2017
In 1997, a Labour government swept to power promising to transform our country. And the election of 101 women to the government benches promised to transform our politics too.
Getting more women elected as MPs wasn't just an end in itself, important though it was to have a parliament that looked more like the country it represented. It was also about policy: pensions, healthcare, childcare, equality for all, an economy that worked for the many, women as well as men and global fairness. This collection sets out some of the key achievements of the 1997 generation of Labour women.
It also traces how they paved the way for today's women MPs, who are redefining Labour values in these challenging times. Great strides have been made by and for women in and out of parliament, but much remains to be done.
With an introduction by Harriet Harman and contributions by Vera Baird, Margaret Beckett MP, Anne Begg, Yvette Cooper MP, Angela Eagle MP, Caroline Flint MP, Margaret Hodge MP, Sharon Hodgson MP, Sally Keeble, Liz Kendall MP, Fiona Mactaggart MP, Shabana Mahmood MP, Siobhain McDonagh MP, Laura Moffatt, Lisa Nandy MP, Frances O'Grady, Jess Phillips MP, Paula Sherriff MP, Tulip Siddiq MP and Jacqui Smith.
You can receive this publication free if you join the Fabian Society today. Once you become a member, you'll receive two free pamphlets immediately and will get a copy of the Fabian Review magazine and our latest pamphlet every quarter. Click here to find out more about joining the Fabian Society. 
Copies are also available priced £9.95 from the Fabian Society bookshop – call 020 7227 4900, email or send a cheque payable to "The Fabian Society" to 61 Petty France, London, SW1H 9EU.
Download

now
How to purchase
Copies are available, priced £9.95, from the Fabian Society. Call 020 7227 4900, email or send a cheque payable to The Fabian Society to 61 Petty France, London, SW1H 9EU.
Fabian membership
Join the Fabian Society today and help shape the future of the left
You'll receive the quarterly Fabian Review and at least four reports or pamphlets each year sent to your door
Be a part of the debate at Fabian conferences and events and join one of our network of local Fabian societies
Join

the Fabian Society
Be the first to know
Sign up to the free Fabian Society newsletter
Find out about the latest Fabian Society research, publications and events with our regular updates
Sign

up today
Fabian

Society