The happy Fabian
On the 134th anniversary of the Fabian Society, Deborah Stoate writes about the intriguing hinterland of Fabian founder Beatrice Webb 
"How full and brimming over with happiness human life can be. How could this happiness become universal – or nearly universal – that is the problem." Beatrice Webb, Diary 1 May 1897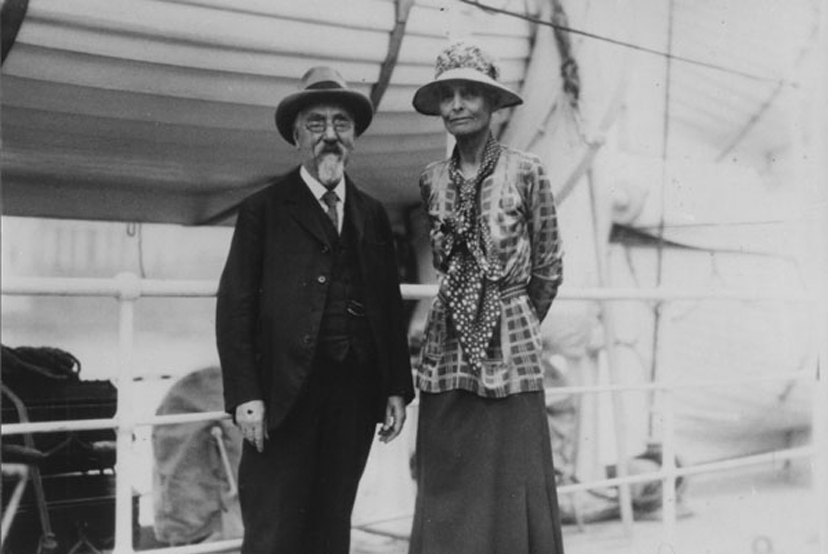 When you think about Beatrice Webb – which I assume as a Fabian you do quite frequently – you probably don't think of her in the context of happiness, physical pleasures and, let's face it, fun. Probably more as a formidable thinker, an aesthete with a tendency to introspection and gloom. However, having done some research into Beatrice's personal life, I should like to dispel that myth just a little bit and talk about the things which seemingly made her happy, at least in her youth and middle age: cycling, surfing, sunbathing, smoking, sex and white water rafting.
My interest was aroused when, having recently returned from a trip to India, I turned to Sidney and Beatrice's 'Indian Diary' of 1912 and found that we had both stayed at Haridwar on the Ganges. I had watched as parties of excitable (mainly) men shot past on rafts shouting 'hubba, hubba' and waving their paddles. Having experienced white water rafting and found it the most terrifying experience of my life, imagine my surprise to find that Beatrice and Sidney had done just that on February 24 1912. She writes: "… we embarked on Saknais, to float downstream for five hours, shooting innumerable alarming rapids". They rode on inflated cowhides with bedsteads laid across them and two men either side "moving their legs like paddle wheels." And all this in a long skirt and veiled hat – I can't quite picture them in wetsuits, even if they existed in 1912. Did they roar enthusiastically as they soared over the rapids? 'The inevitability of gradualismmmm'. I hope so.
It also appears that, from an early age, Beatrice enjoyed a fag and a drink. When she was on a visit to Germany aged 20 she noted: "Yesterday evening we spent at Dr Geiser's drinking and smoking and talking and laughing in a very rowdy way. I had got up a mock flirtation with Mr Barclay." This was clearly not an aberration of youth, as she writes in 1911 aged 53 of, "all my little self-indulgences. My regular five or six cigarettes consumed daily, the extra expenditure on pretty clothes – all seem sins from which I can never shake myself free."
Poor Beatrice, never fully able to enjoy guilt-free pleasure. Indeed, in 1901 she embarked on a rigid diet which she stuck to for the rest of her life involving eating no more than one pound of food twice a day which left her thin, 'cool and sensible' – and flatulence and indigestion free! She had believed that she was the object of attention to men, referring to the "magnetic attraction" she had on them, so the diet which reduced her to less than eight stone was a means of controlling unwelcome urges. "Until I took to the rigid diet, the sensual side of my nature seemed to be growing at the expense of the intellectual", so by starving herself, she gained "complete control over my thoughts and feelings."
Cycling was a lifelong enthusiasm and her diaries frequently refer to it. Amy Strachey noted in 1895: "I have a little picture in my mind of Mrs Webb, who rode extremely well, scudding on before me down one of the back streets of Pimlico… with both hands behind her back, steering by her pedals. She was a graceful and intrepid rider." Cycling was a passion Beatrice and Sidney shared for as long as they could and throughout her diaries she mentions idyllic holidays by the sea, sunbathing and cycling. Sidney, who she refers to as 'my boy', features in this touching quote detailing a holiday in Dorset in 1901: "I see my boy's blue eyes resting on me with love as he grasps my bicycle to push it up a hard bit of hill."
Her boy, Sidney, despite his unprepossessing appearance, was indeed the love of her life. Upon first meeting him in 1890 she refers to "his tiny tadpole body, lack of manner, Cockney pronunciation and self-complacent egoism (which) are… repulsive and ludicrous." Yet despite his physical disadvantages they became engaged in 1891, though Beatrice writes to him, "No dear, I do not even look at your photograph. It is too hideous for anything." Sidney was obviously too far in love to take umbrage at the hideous insults she poured on him.
When engaged they started researching together and rented a hotel room in Tynemouth where Beatrice writes and Sidney visits: "While I have been lying on the sofa, he has been busily abstracting end extracting, amply rewarded he says, by a few brief intervals of 'human nature' over the cigarettes." They marry and honeymoon in Dublin – "we are happy. Far too happy to be reasonable." And their early married life she refers to as 'a divine relationship', and their flat as 'a dovecote', where her "darling old boy twists his strong minded wife round his little finger by soft sounds and kisses."
In 1911 she refers to her boy as "the most perfect of lovers by night and day, in work and play", and indeed George Bernard Shaw noted "the Webb's pet one another as if they were honeymooning (as usual)." They remained "one and indivisible" as Beatrice wrote, or in the words of Bertrand Russell, "the most completely married couple I know." In later life they lived in the country at Passfeld House in Surrey, writing, thinking, talking, entertaining visitors and walking Beatrice's dog Sandy: "Happy ghosts living in Shadowland, content with one another's company." Beatrice declared, very near the end of her life: "In old age and infirmity we love each other more tenderly than we did in the prime of life."
I had always admired Beatrice Webb, but whilst writing this I began to warm to her as well. She lived a long life of triumph and tragedy, dying in 1943, four years before Sidney. He kept her ashes on the mantelpiece, gesticulating to the urn and saying to visitors: "That's Beatrice you know." They now lie together in Westminster Abbey, the only married couple to be buried there.
Beatrice and her boy, together forever.