A living legend
This timely biography will open your eyes to how misogynoir plays out in the corridors of power –– Shaista Aziz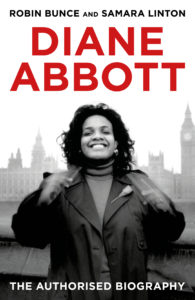 Diane Abbott: The authorised biography, Robin Bunce and Samara Linton, Biteback, £10
More than 30 years after smashing the reinforced concrete ceiling that Black and ethnic minority women have to break, Diane Abbott remains the highest profile Black politician in the country – and the most bullied and disrespected. The intersection of anti-Black racism and misogyny means a very particular type of bigotry is dumped on the shoulders of Diane Abbott: misogynoir.
This treatment is also dished out by members of the parliamentary Labour party, including white women MPs who refer to themselves as feminists but reserve the type of treatment for Abbott that many Black women experience daily in this country.
Whilst reading this biography, it struck me that it is impossible to separate Diane Abbott the MP, the history-maker and pioneer, from the systemic racism, sexism and misogyny she has faced her whole life, from her school days to Cambridge University, to being elected a councillor, to her career in breakfast TV and the media, to becoming Britain's first Black woman MP.
Also striking is the lack of meaningful progress in the Labour party on race and representation in its structures, particularly around the self-organising of Black sections.
One of the most eye-opening aspects of this well-researched, nuanced and thoughtful biography is how deeply uncomfortable Labour remains, as a party and a movement, to do the real work to tackle racism, in all its forms and at all levels. But this work must be done if Labour is to become a political force that transforms people's lives at a time of multiple crises.
Through the pages of this biography, we learn how Abbott made her way upwards through the ranks of the party, despite who she is and not because of it: a fiercely bright, brave, articulate and thoughtful woman, yet seen as a threat, a liability and a woman who will not be controlled. Abbott is very much like Marmite, too strong for many to handle.
Figures such as Andy Burnham, David Lammy and  Jeremy Corbyn pop up as strong and consistent allies, pushing Abbott to take up space and leadership roles in the party, proof once more that for Black women and women of colour, more often than not we are  supported by white men and men ahead of women and white feminists.
Black African American novelist and writer Tayari Jones, wrote the following after the death of Maya Angelou for the Guardian in 2014. These beautiful words very much apply to Diane Abbott too: "This is what happens when our elders do their work well: Angelou kicked the door open so wide that within her own lifetime there existed younger people who didn't quite remember that there was ever a door there at all."
Not everyone has to like Abbott's views or politics, nor her political approach or style. But that does not give license to deny her living legacy. We stand on the shoulders of giants.
Thank you, Diane Abbott.