Fabian International Policy Group
Fabian member policy group focusing on foreign policy, international development and defence.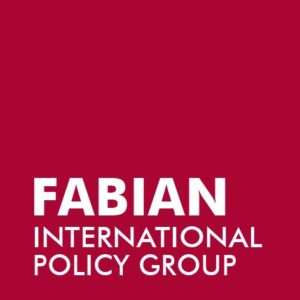 The Fabian Society International Policy Group (Fabian IPG) is a dedicated network for Fabian members with professional and academic expertise in foreign affairs, international development and defence policy. Established in 2016, it provides a forum for debating the big global issues of the day and the major challenges facing the centre-left here in the UK and abroad.
Our aims are to be an exciting intellectual forum for exploring and debating key global policy issues; to work and collaborate with sister organisations around the world in the renewal of progressive politics; and to contribute to the development of the UK Labour party's policy making through our events, commentary and policy output.
Follow us on Twitter @Fabian_IPG
To join our mailing list and get involved in the Fabian IPG please email our convener Rayhan Haque
Upcoming Events
Fabian IPG steering group | Wednesday 20 June, 6:30pm | Piccadilly
The Fabian IPG is run by members, for members, so if you'd like to get more involved and help organise some of our activities or would just like to share your thoughts and ideas, then please come along to our quarterly steering group meeting. To RSVP, please email me at: rayhan.haque100@gmail.com with the subject 'June Steering Group'.
Prioritising People and Planet: Pascal Lamy and Lisa Nandy MP 'In Conversation' | Monday 25 June, 6-8pm | Parliament  
The Fabian Society is delighted to invite you to a political conversation between Pascal Lamy and Lisa Nandy MP. The event marks the London launch of the Lamy Group's report Prioritising People and Planet: A New Agenda for Global Progress, published by the Foundation for European Progressive Studies. Pascal Lamy is former director-general of the World Trade Organisation and former EU Commissioner for Trade. In introducing the new report he will share his insights on the prospects for the global left and the challenges facing social democrats in the UK and France in particular. For more information and RSVP: Click here
Is North Korea a genuine partner for peace? | Monday 9 July, 6:30pm | Fabian HQ 
The Fabian IPG is delighted to be hosting a roundtable on Monday 9 July with Jim Hoare, the former British chargé d'affaires in Pyongyang and one of the UK's foremost experts on North Korea. This event will explore if North Korea is a genuine partner for peace and the aims and motivations behind the country's recent moves at rapprochement with the international community.More info and RSVP: Click here 
In Conversation with Baroness Amos | Thursday 19 July, 7pm | Canary Wharf  
We are very excited to announce we will be hosting Baroness Amos, the former UN Under-Secretary-General for Humanitarian Affairs and Emergency Relief Coordinator, for a special event this summer. This is a great opportunity for Fabian IPG members to meet a leading British politician who has served at the highest levels of the UN, and to discuss issues as diverse as United Nations reform to how the world solves the human catastrophe caused by the Syrian conflict. More info and RSVP: Click here
Coming later this year…
Responsibility to Protect, with Stephen Twigg MP, Chair of the International Development Select Committee | September (tbc)
In the wake of devastating human catastrophes in Burma, Syria, and Yemen, this project will examine how the international community is failing to prevent genocide and war crimes being committed across the world today and how the globally endorsed Responsibility to Protect doctrine can be revived.
What does an ethical foreign policy look like in today's world?
A special event with David Mathieson, former adviser to the late Foreign Secretary Robin Cook. With the Labour Party vowing to bring back the late Robin Cook's ethical foreign policy, we are delighted to be hosting a special event with the former Foreign Secretary's Special Adviser, David Mathieson, later this year. This event is a great opportunity to explore what an ethical approach to international affairs means today and what lessons we can learn from the great Robin Cook.
Past Events
A selection of photos from previous events:
To join our mailing list and get involved in the Fabian IPG please email our convener Rayhan Haque
IPG

annual report 2016-17

The Fabian Society International Policy Group was established just over a year ago and continues to go from strength to strength – growing in numbers, developing new and exciting collaborations and increasing the diversity of our programme.

Read more