Fabian International Policy Group
Fabian member policy group focusing on foreign policy, international development and defence.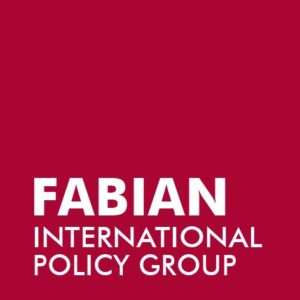 The Fabian Society International Policy Group (Fabian IPG) is a dedicated network for Fabian members with professional and academic expertise in foreign affairs, international development and defence policy. Established in 2016, it provides a forum for debating the big global issues of the day and the major challenges facing the centre-left here in the UK and abroad.
Our aims are to be an exciting intellectual forum for exploring and debating key global policy issues; to work and collaborate with sister organisations around the world in the renewal of progressive politics; and to contribute to the development of the UK Labour party's policy making through our events, commentary and policy output.
To join our mailing list and get involved in the Fabian IPG please email our convener Rayhan Haque
Follow us on Twitter @Fabian_IPG
Join our Facebook Page
---
Fabian IPG Blog: latest
The 'utility of force' and the left's debate on intervention – Jenny Steel
Hungary: A country in crisis and the dangers for the EU – Alexander Faludy
In the latest election soap opera, Brazil's Trump may win – Jessica Toale
In conversation with Baroness Amos – Chineme Ene
The overbearing face of nationalism in Turkey – Jessica Toale
Radical approaches to development – Jessica Toale
Read more blog posts on our international policy group blog
Interested in writing for the blog? Email for more info
---
Upcoming Events
Future Defence: Building peace and security in a changing world | Labour Party Conference | 23 September
We will be joined by Nia Griffith MP (shadow defence secretary), Wayne David MP (shadow procurement and armed forces minister), Paul Mason (The Guardian) and more. Most would agree that a Labour government would seek to maintain and enhance peace throughout the world. But for this to happen, Labour needs to think carefully about how we can best develop the peacekeeping role of the United Nations and the effectiveness of NATO. With Britain leaving the EU and America wanting Europe to contribute more to its own defence, there is a need for us to consider what military co-operation a future Labour Government would have with other European countries.
In conversation with Douglas Alexander | October 8th
Douglas Alexander, the former Shadow Foreign Secretary. Douglas has also served in government, as Minister for Europe, Secretary of State for International Development and as the UK's Governor of the World Bank. Currently, he is a Senior Fellow at Harvard and serves as a Visiting Professor at King's College, London. Douglas is also a senior advisor to Bono, advising on how to tackle poverty in Africa.
Responsibility to Protect, with Stephen Twigg MP, Chair of the International Development Select Committee | September (tbc)
In the wake of devastating human catastrophes in Burma, Syria, and Yemen, this project will examine how the international community is failing to prevent genocide and war crimes being committed across the world today and how the globally endorsed Responsibility to Protect doctrine can be revived.
What does an ethical foreign policy look like in today's world? | Autumn tbc
A special event with David Mathieson, former adviser to the late Foreign Secretary Robin Cook. With the Labour Party vowing to bring back the late Robin Cook's ethical foreign policy, we are delighted to be hosting a special event with the former Foreign Secretary's Special Adviser, David Mathieson, later this year. This event is a great opportunity to explore what an ethical approach to international affairs means today and what lessons we can learn from the great Robin Cook.
In Conversation with Lord Malloch-Brown | December tbc
UN Deputy Secretary-General and British Foreign Minister, Lord Malloch-Brown, will be giving the Fabian IPG's Christmas speech. This will be a high profile address from one of the UK's most experienced and thoughtful foreign policy minds. You won't want to miss this!
---
Past Events
VIDEO – In conversation with Baroness Amos
A selection of photos from previous events:
To join our mailing list and get involved in the Fabian IPG please email our convener Rayhan Haque
IPG

annual report 2016-17

The Fabian Society International Policy Group was established just over a year ago and continues to go from strength to strength – growing in numbers, developing new and exciting collaborations and increasing the diversity of our programme.

Read more