Fabian International Policy Group
Fabian member policy group focusing on foreign policy, international development and defence.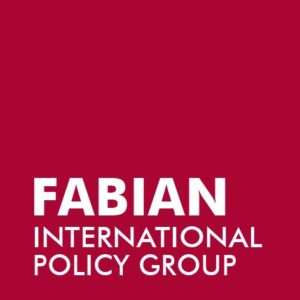 The Fabian Society International Policy Group (Fabian IPG) is a dedicated network for Fabian members with professional and academic expertise in foreign affairs, international development and defence policy. Established in 2016, it provides a forum for debating the big global issues of the day and the major challenges facing the centre-left here in the UK and abroad.
Our aims are to be an exciting intellectual forum for exploring and debating key global policy issues; to work and collaborate with sister organisations around the world in the renewal of progressive politics; and to contribute to the development of the UK Labour party's policy making through our events, commentary and policy output.
Follow us on Twitter @Fabian_IPG
To join our mailing list and get involved in the Fabian IPG please email our convener Rayhan Haque
Upcoming Events
The Future of UK-Russia Relations, Tuesday 17 April, 19:00-20:30, London with Anne McElvoy (senior editor, The Economist & a former Moscow correspondent) and Dr Pete Duncan (senior lecturer, UCL & Russian foreign policy expert). This event will explore the disturbing Skripal attack and its implications for UK/Russia relations, including what it means for wider European defence and security, conflict in Syria and across the Middle East, nuclear non-proliferation and western democracies. Register here.
Spring Social with Alan Milburn, Tues 15th May, 19:00-22:00, London Join us for our spring social with special guest of honour, former Cabinet Minister Rt Hon Alan Milburn. This event will be an opportunity to meet and discuss with other members of the network and hear from Alan who will be spekaing about the renewal of progressive politics and Britain in the world today. More info and RSVP here.
Radical Revolutions in Foreign Policy – what would a de-colonial approach look like? Saturday 26th May, 12-3pm, Oxford. Please save the date for a half day event in Oxford exploring alternative approaches to Foreign Policy. The event will feature a panel of de-colonial academics and activist followed by a workshop for attendees to discuss the ideas further. More details to follow shortly.
Past Events
A selection of photos from previous events:
To join our mailing list and get involved in the Fabian IPG please email our convener Rayhan Haque
IPG

annual report 2016-17

The Fabian Society International Policy Group was established just over a year ago and continues to go from strength to strength – growing in numbers, developing new and exciting collaborations and increasing the diversity of our programme.

Read more