A future without poverty: A joint report
The Fabian Society and Bright Blue present a range of perspectives from left and right on tackling poverty.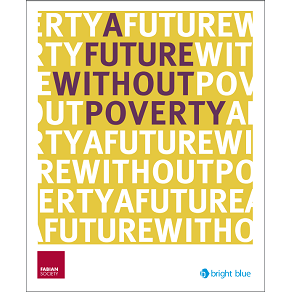 A future without poverty
2 March 2015
Both The Fabian Society and Bright Blue are dedicated to generating policy ideas to enable people from every background to live prosperous and fulfilling lives. We may not always agree with each other on specific policy recommendations, but we are united in passionately believing that the levels of poverty in Britain are shameful, and that public policy and resources should give priority to supporting those who are vulnerable.
A General Election is just around the corner. The political mudslinging is escalating. But we wanted to buck the trend and create a cross-party space for people from different political and social backgrounds to come together to share their experiences and find common solutions to poverty.
This pamphlet is the start of the conversation. In it we bring together ministers and shadow ministers, thinkers, campaigners and people experiencing poverty to write about their vision for a future without poverty. With such a broad coalition committed to action, progress on poverty is possible.
Download

now
Fabian membership
Join the Fabian Society today and help shape the future of the left
You'll receive the quarterly Fabian Review and at least four reports or pamphlets each year sent to your door
Be a part of the debate at Fabian conferences and events and join one of our network of local Fabian societies
Join

the Fabian Society
Be the first to know
Sign up to the free Fabian Society newsletter
Find out about the latest Fabian Society research, publications and events with our regular updates
Sign

up today
Fabian

Society