An Inclusive Future: Ensuring disabled people play a key role in the changing world of work
The essays in this collection offer hope for a more inclusive economy in which disabled employees can play a full part.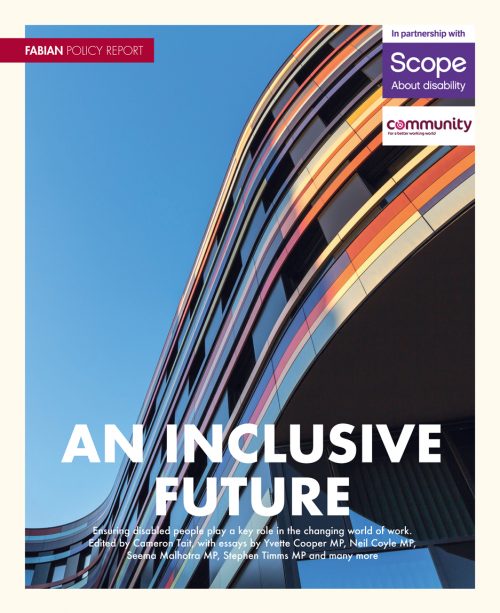 An Inclusive Future
25 September 2016
The changing world of work is raising important questions over inclusivity and fairness in Britain's labour market. In particular, we are seeing the decline of middle tier and public sector jobs, both of which have historically provided opportunities for disabled workers to work flexibly in well-paid, meaningful roles.
This policy report from Labour MPs, disabled people, and experts on disability and work, with a foreword from Yvette Cooper, chair of the Changing Work Centre, puts forward a number of proposals to ensure disabled people play a key role in the changing world of work. With action from government and employers to remove the barriers of today and tomorrow, we can put inclusivity at the heart of the future of work.
This is a policy report from the Changing Work Centre, an initiative set up by the Fabian Society and Community to explore progressive ideas for the modern world of work. The report was produced in partnership with Scope and Community.
Download

now
How to purchase
Copies are available priced £4.95 from the Fabian Society bookshop – call 020 7227 4900,
email
or send a cheque payable to "The Fabian Society" to 61 Petty France, London, SW1H 9EU.
Fabian membership
Join the Fabian Society today and help shape the future of the left
You'll receive the quarterly Fabian Review and at least four reports or pamphlets each year sent to your door
Be a part of the debate at Fabian conferences and events and join one of our network of local Fabian societies
Join

the Fabian Society
Be the first to know
Sign up to the free Fabian Society newsletter
Find out about the latest Fabian Society research, publications and events with our regular updates
Sign

up today
Fabian

Society