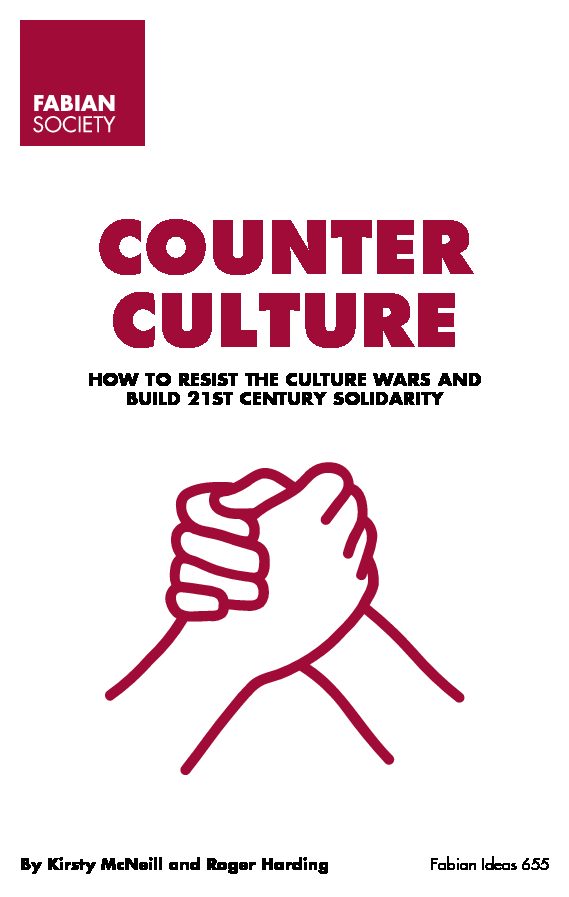 Counter Culture
6 July 2021
Whether the arguments are over statues or footballers taking the knee, our political and media debate is increasingly dominated by talk of culture wars. For some on the right, an all-out assault on 'wokeness' is seen as an easy way to unite their base. How should progressives navigate their way through these wars?
In this pamphlet, Kirsty McNeill and Roger Harding argue that we all have a role to play in denying the culture wars peddlers the fight they want. Instead of letting people distract or divide us, we should build a new solidarity strategy, with a positive offer for the future and a confident account of our history and identity. We all stand to gain when our common life is focused on the things we share and when we work together to ensure everyone has an equal chance of living a life full of dignity, joy, love and hope.
Download

now
How to purchase
Copies are available, priced £9.95, from the Fabian Society. Call 020 7227 4900, email or send a cheque payable to The Fabian Society to 61 Petty France, London, SW1H 9EU.
Fabian membership
Join the Fabian Society today and help shape the future of the left
You'll receive the quarterly Fabian Review and at least four reports or pamphlets each year sent to your door
Be a part of the debate at Fabian conferences and events and join one of our network of local Fabian societies
Join

the Fabian Society
Be the first to know
Sign up to the free Fabian Society newsletter
Find out about the latest Fabian Society research, publications and events with our regular updates
Sign

up today
Fabian

Society