Fabian Review – Autumn 2008: Fabian Review - Autumn 2008
This autumn party conference issue of the Fabian Review is the Progressive Fightback Issue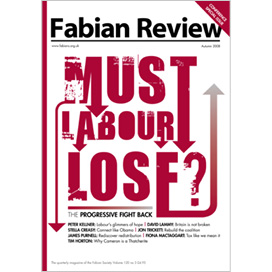 Fabian Review – Autumn 2008
1 September 2008
This autumn party conference issue of the Fabian Review is the Progressive Fightback Issue.
Tim Horton exposes the truth about the Tories and taxation,
Pollster Peter Kellner gives us reasons to be cheerful.
William Higham writes on welfare in a credit crunch.
James Purnell talks about Labour values.
And in Books Catherine Fieschi reviews Thaler and Sunstein's Nudge and Robert Cooper reviews Mark Leonard's What Does China Think?
And in the Fabian Fairness special we have agenda-setting work from Jon Trickett, David Lammy, Fiona Mactaggart, and Stella Creasy.
If you'd like to receive the Fabian Review through the post every quarter, you can join the Fabian Society. You'll get a copy of the Fabian Review and a copy of our latest pamphlet every three months. Find out more about joining the Fabian Society here.
Download

now
How to purchase
Copies are available, priced £9.95, from the Fabian Society. Call 020 7227 4900, email or send a cheque payable to The Fabian Society to 61 Petty France, London, SW1H 9EU.
Fabian membership
Join the Fabian Society today and help shape the future of the left
You'll receive the quarterly Fabian Review and at least four reports or pamphlets each year sent to your door
Be a part of the debate at Fabian conferences and events and join one of our network of local Fabian societies
Join

the Fabian Society
Be the first to know
Sign up to the free Fabian Society newsletter
Find out about the latest Fabian Society research, publications and events with our regular updates
Sign

up today
Fabian

Society