Fabian Review – Autumn 2009: Fabian Review - Autumn 2009
As the last Conference season before the election begins, the Fabian Review asks how Labour can use the pulpit of power for the next 200 days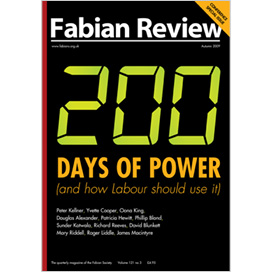 Fabian Review – Autumn 2009
1 September 2009
As the last Conference season before the election begins, the Fabian Review asks how Labour can use the pulpit of power for the next 200 days. With the polls making increasingly grim reading for Labour, the magazine argues that a decent offer to the country can still be made if governing power is used in a bold and effective way.
Sunder Katwala sets out a strategy for using 200 days of power.
Mary Riddell interviews Labour's election coordinator Douglas Alexander.
Yvette Cooper shows that Labour can still win
Peter Kellner says we must prepare for the worst
James Macintyre, Dan Paskins and Ed Wallis look at the various election battlegrounds
Oona King says that we need a digital democracy.
If you'd like to receive the Fabian Review through the post every quarter, you can join the Fabian Society. You'll get a copy of the Fabian Review and a copy of our latest pamphlet every three months. Find out more about joining the Fabian Society here.
Download

now
How to purchase
Copies are available, priced £9.95, from the Fabian Society. Call 020 7227 4900, email or send a cheque payable to The Fabian Society to 61 Petty France, London, SW1H 9EU.
Fabian membership
Join the Fabian Society today and help shape the future of the left
You'll receive the quarterly Fabian Review and at least four reports or pamphlets each year sent to your door
Be a part of the debate at Fabian conferences and events and join one of our network of local Fabian societies
Join

the Fabian Society
Be the first to know
Sign up to the free Fabian Society newsletter
Find out about the latest Fabian Society research, publications and events with our regular updates
Sign

up today
Fabian

Society