Spring 2011: Fabian Review
The spring Fabian Review looks at why things are getting worse for women under this government and sets out some new campaigns for gender equality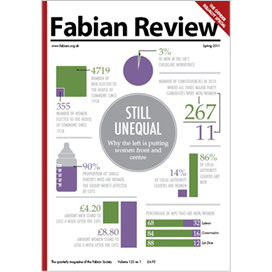 The invisibility of women during the last election campaign and the disproportionate impact of the Government's spending cuts have highlighted what Labour's incremental progress slightly obscured: women are still unequal. The spring Fabian Review looks at why things are getting worse for women under this Government and sets out some new campaigns for gender equality.
Howard Reed and Kitty Ussher look at how the cuts are hitting women hardest.
Mary Riddell speaks to Yvette Cooper about being tipped as Labour's first female leader.
Deborah Mattinson, Rebecca Asher, John Hannett, Jude Rogers, Margaret Curran, Emma Reynolds and Rachel Reeves provide campaign ideas for the new gender battleground.
Pat Thane says it will fall to women to keep the 'big society' from falling apart.
Ellie Levenson and Laurie Penny discuss the state of feminism.
Sunder Katwala and Seema Malhotra say that Lib Dem women face wipeout unless they take drastic measures now.
Nan Sloane reveals how government policy is insidiously removing women from decision making roles.
---
Copies are also available priced £4.95 from  the Fabian Society bookshop – call 020 7227 4900, email bookshop@fabian-society.org.uk or send a cheque payable to "The Fabian Society" to 11 Dartmouth Street, London, SW1H 9BN.
You can receive this publication free if you join the Fabian Society today. Once you become a member, you'll receive two free pamphlets immediately and will get a copy of the Fabian Review magazine and our latest pamphlet every quarter. Click here to find out more about joining the Fabian Society.
Download

now
Fabian membership
Join the Fabian Society today and help shape the future of the left
You'll receive the quarterly Fabian Review and at least four reports or pamphlets each year sent to your door
Be a part of the debate at Fabian conferences and events and join one of our network of local Fabian societies
Join

the Fabian Society
Be the first to know
Sign up to the free Fabian Society newsletter
Find out about the latest Fabian Society research, publications and events with our regular updates
Sign

up today
Fabian

Society