Fabian Review – Winter 2009: Fabian Review - Winter 2009
The Fabian Review New Year Conference special previews the politics of 2010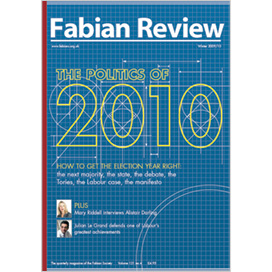 Fabian Review – Winter 2009
1 December 2009
The Fabian Review New Year Conference special previews the politics of 2010. This is clearly going to be a make-or-break political year, so the Fabian Review considers some of the key challenges that will shape not only the next election, but the longer term inquest into where next for the left.
Will Straw argues that to build a new winning coalition we need to understand a changing electorate.
Jonathan Rutherford calls for a radical vision of the state.
Denis MacShane comments on the demise of debate within politics.
James Crabtree says we need to generate a range of new ideas and approaches for the left.
Stella Creasy says that Labour must set progressive benchmarks for the Tories.
Sunder Katwala highlights the need for a more imaginative Labour manifesto.
Mary Riddell interviews Alistair Darling.
Julian Le Grand stands up for the Child Trust Fund.
---
Copies are also available priced £4.95 from  the Fabian Society bookshop – call 020 7227 4900, email bookshop@fabian-society.org.uk or send a cheque payable to "The Fabian Society" to 11 Dartmouth Street, London, SW1H 9BN.
You can receive this publication free if you join the Fabian Society today. Once you become a member, you'll receive two free pamphlets immediately and will get a copy of the Fabian Review magazine and our latest pamphlet every quarter. Click here to find out more about joining the Fabian Society.
How to purchase
Copies are available, priced £9.95, from the Fabian Society. Call 020 7227 4900, email or send a cheque payable to The Fabian Society to 61 Petty France, London, SW1H 9EU.
Fabian membership
Join the Fabian Society today and help shape the future of the left
You'll receive the quarterly Fabian Review and at least four reports or pamphlets each year sent to your door
Be a part of the debate at Fabian conferences and events and join one of our network of local Fabian societies
Join

the Fabian Society
Be the first to know
Sign up to the free Fabian Society newsletter
Find out about the latest Fabian Society research, publications and events with our regular updates
Sign

up today
Fabian

Society