For Us All: Redesigning social security, for the 2020s
Why are current policies failing - and how can we create a social security system fit for the future?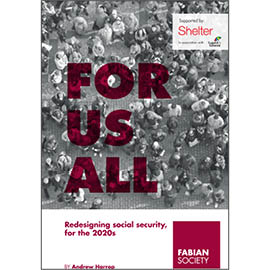 For Us All
31 August 2016
For six years of the Cameron government 'austerity' dominated all discussion of benefit policies. Now it is time to turn a page and start to consider the long-term future of social security, as part of a strategic agenda for raising British living standards following the UK's decision to leave the EU. Politicians need to find the confidence to argue that generous, well-designed benefits for non-pensioners are essential for a fairer, more prosperous future. Social security for pensioners is now on a strong and sustainable footing. But the system for non-pensioners will be worse in 2020 than it was in 2010 – and will carry on getting worse, unless policy changes. We can allow this to happen – or we can turn social security around, by applying the same strategic approach to policy making as the Turner Commission on pensions did in the 2000s.
Download the online appendices
Download

now
How to purchase
Copies are available, priced £9.95, from the Fabian Society. Call 020 7227 4900, email or send a cheque payable to The Fabian Society to 61 Petty France, London, SW1H 9EU.
Fabian membership
Join the Fabian Society today and help shape the future of the left
You'll receive the quarterly Fabian Review and at least four reports or pamphlets each year sent to your door
Be a part of the debate at Fabian conferences and events and join one of our network of local Fabian societies
Join

the Fabian Society
Be the first to know
Sign up to the free Fabian Society newsletter
Find out about the latest Fabian Society research, publications and events with our regular updates
Sign

up today
Fabian

Society