Future Unions: Towards a membership renaissance in the private sector
New research – supported by a wide range of union leaders - sets out a radical plan to reverse the decline in trade union membership and boost pay in the private sector.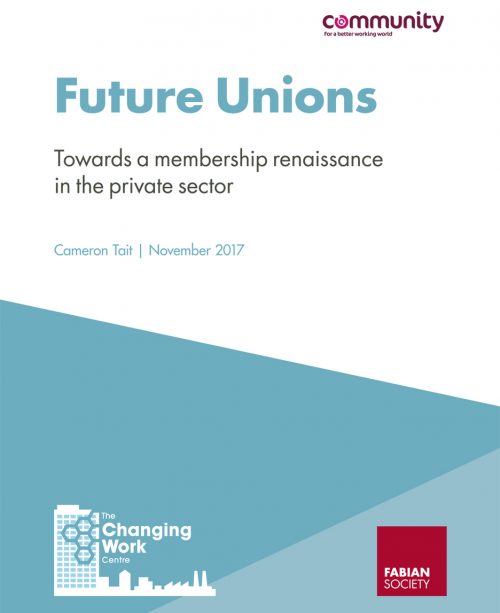 Future Unions
15 November 2017
This report is the product of a programme of Fabian Society and Changing Work Centre research on the future of private sector trade unions. The report charts the decline of British trade unions from being the most powerful union movement in the world to one facing a fight to remain relevant – and it sets out key steps on the road to recovery.
The research included analysis of trade union membership trends, a face-to-face survey with 1,339 workers, a series of focus groups across the UK with non-unionised private sector workers between the ages of 18 and 35, and a consultation with trade union leaders, officers and lay representatives. The research was supported by an advisory group of leading trade unionists and experts.
Read the Guardian write up of the report >>>
Download

now
Membership in the private sector is less than a third of what it was at its peak, falling from 45 per cent to 13 per cent of the commercial workforce between 1979 and 2016. The key drivers of this change...
Changing Work Centre / Employment / Trade unions
Fabian membership
Join the Fabian Society today and help shape the future of the left
You'll receive the quarterly Fabian Review and at least four reports or pamphlets each year sent to your door
Be a part of the debate at Fabian conferences and events and join one of our network of local Fabian societies
Join

the Fabian Society
Be the first to know
Sign up to the free Fabian Society newsletter
Find out about the latest Fabian Society research, publications and events with our regular updates
Sign

up today
Fabian

Society