Labour's Next Majority: A constituency guide
The national political picture matters hugely, but never underestimate the importance of well-organised local campaigns in affecting the result of a constituency election. This is a step by step guide to running a scientifically targeted and organised campaign.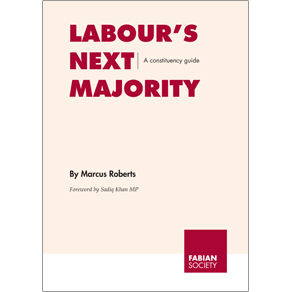 Labour's Next Majority
25 June 2014
Labour's Next Majority: The 40% strategy, published in 2013, set out Labour's pathway to victory in 2015 with Labour building a new coalition of Labour loyalists, Lib Dem converts, a few Conservative defectors and a chunk of returning non-voters.
This new report goes into more detail on how Labour party organisers and campaigners can work, constituency by constituency, to implement this strategy in practice.
Touching on media, canvassing, community campaigning and fundraising, as well as using a candidate's time most effectively, the report is a point-bypoint manual for winning parliamentary elections.
Download

now
Fabian membership
Join the Fabian Society today and help shape the future of the left
You'll receive the quarterly Fabian Review and at least four reports or pamphlets each year sent to your door
Be a part of the debate at Fabian conferences and events and join one of our network of local Fabian societies
Join

the Fabian Society
Be the first to know
Sign up to the free Fabian Society newsletter
Find out about the latest Fabian Society research, publications and events with our regular updates
Sign

up today
Fabian

Society