Minds at Work: Making mental health a priority in the changing world of work
Job insecurity, prejudice and ignorance are driving Britain's workplace mental health crisis, according to a new report from the Fabian Society.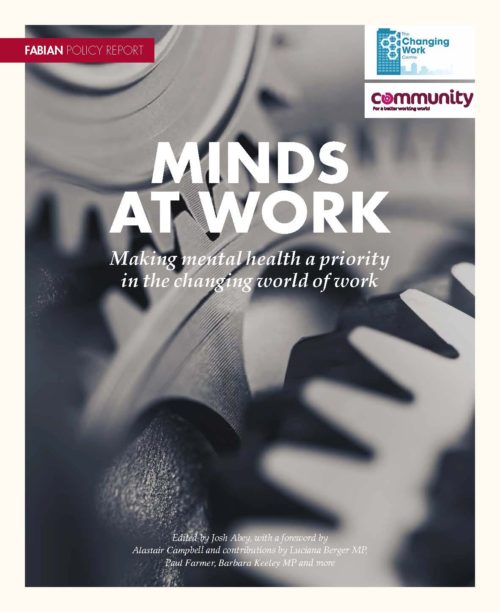 Minds at Work
21 January 2019
Minds at Work reveals that Britain's rapidly changing labour market is creating new risks for mental health. The report finds a steep increase in the number of self-employed workers with a mental illness. Over five years the number has almost doubled, from 105,000 in 2012 to 203,000 in 2017.
The report calls for an urgent rethink of attitudes towards mental health as the world of work continues to transform. Key recommendations include:
Reforming statutory sick pay to make it more flexible, more generous and available to workers from day one of their employment.
Creating a new collective insurance scheme to help protect the incomes of self-employed workers if they need to take time off work.
Alternative management approaches which focus on the value and potential of each individual, rather than the cost of their mental illness.
Training managers in equality law and their responsibilities to employees as well as 'soft' management skills.
With a foreword by Alistair Campbell, the report's authors include Josh Abey, Luciana Berger MP, Dr Jed Boardman, Gillian Connor, Kate Dearden, Gill Dix, Paul Farmer, Sally Anne Gross, Barbara Keeley MP, Roy Rickhuss, Chris O'Sullivan, Dr Ruth Yeoman.
Download

now
How to purchase
Copies are available, priced £9.95, from the Fabian Society. Call 020 7227 4900, email or send a cheque payable to The Fabian Society to 61 Petty France, London, SW1H 9EU.
Fabian membership
Join the Fabian Society today and help shape the future of the left
You'll receive the quarterly Fabian Review and at least four reports or pamphlets each year sent to your door
Be a part of the debate at Fabian conferences and events and join one of our network of local Fabian societies
Join

the Fabian Society
Be the first to know
Sign up to the free Fabian Society newsletter
Find out about the latest Fabian Society research, publications and events with our regular updates
Sign

up today
Fabian

Society