Open and ethical: Building a fairer immigration system
Human rights abuses, immigration scandals and poor decision-making have left the immigration system in need of urgent reform, according to a new Fabian Society report.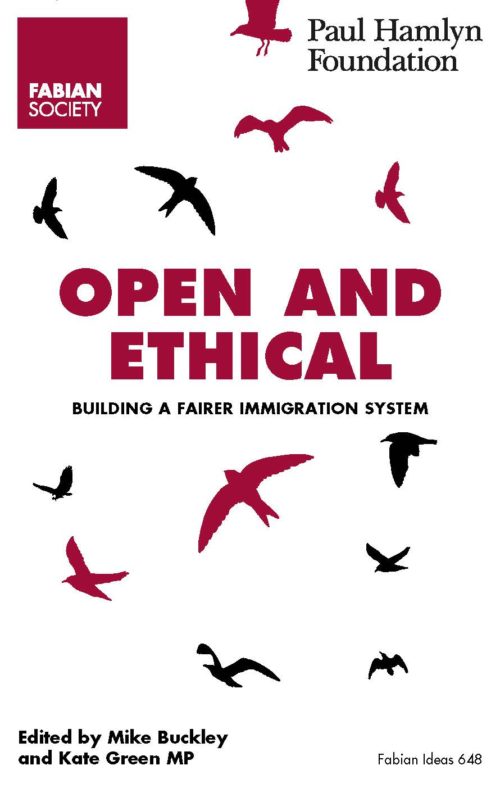 Open and ethical
11 April 2019
Open and Ethical identifies how, in the wake of the Windrush scandal, the UK's migration and asylum systems are failing migrants, asylum seekers and the wider public. The government's recent immigration white paper represented a missed opportunity to make crucial changes.
In this collection of essays edited by Kate Green MP and Mike Buckley, political voices from across the spectrum join policymakers and charities in calling for the UK's broken system to be fixed and for public confidence to be rebuilt.
The report's authors include Labour MP David Lammy, SNP MP Stuart McDonald, Marvin Rees (Labour mayor of Bristol), Jill Rutter (British Future), Conservative peer Baroness Philippa Stroud (Legatum Institute) and Ryan Shorthouse of the centre-right think tank Bright Blue.
Key recommendations include:
David Lammy MP proposes regularising the status of undocumented migrants, allowing them to pay income tax, national insurance and to live safely, ending indefinite detention and immigration income requirements.
Hannah Cooper (Refugee Action) argues that the right to asylum, as enshrined in the Universal Declaration of Human Rights, should be at the heart of the UK system and that fair processes, access to support, compassion and helping people to rebuild their lives are key to upholding this.
Kate Green MP and Mike Buckley call for the Labour party to reshape the national narrative around immigration and integration, and make the positive case for immigration. They recommend prioritising policies that promote integration, enrich our country, and have justice and wellbeing at their heart.
Jill Rutter recommends that all local authorities develop a strategic plan to promote integration, involving other public bodies, business, civic society and the public in this process.
Marvin Rees calls for an expansion of the devolution agenda and for the left to look towards the UK's cities to build an inclusive politics of migration.
Download

now
How to purchase
Copies are available, priced £9.95, from the Fabian Society. Call 020 7227 4900, email or send a cheque payable to The Fabian Society to 61 Petty France, London, SW1H 9EU.
Fabian membership
Join the Fabian Society today and help shape the future of the left
You'll receive the quarterly Fabian Review and at least four reports or pamphlets each year sent to your door
Be a part of the debate at Fabian conferences and events and join one of our network of local Fabian societies
Join

the Fabian Society
Be the first to know
Sign up to the free Fabian Society newsletter
Find out about the latest Fabian Society research, publications and events with our regular updates
Sign

up today
Fabian

Society