Riding the New Wave: Feminism and the Labour party
Labour is the party of social justice, equality and tolerance. How can it retain its relevance to a new generation of feminists?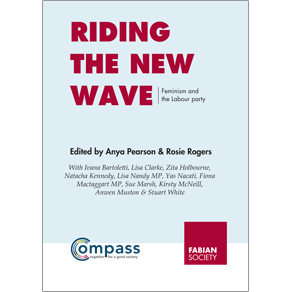 Riding the New Wave
15 October 2014
Spurred on by social media and the effects of the recession, a new wave of feminism is gathering strength at an impressive pace. Meanwhile, our political parties struggle to offer inspiring solutions to the challenges people face in their daily lives. Is Labour in danger of becoming an irrelevance for this generation of feminists?
From Yas Nacati's campaign for better sex education and disability campaigner Sue Marsh's work fighting against government cuts to Lisa Clarke's experience working for No More Page 3, this collection shows that Labour has much to learn from the feminist movement in countering political apathy.
Yet Labour can still be a vehicle for contemporary social activists to achieve lasting, systemic change in their fight for equality – if the party can find ways to hang on and enjoy the ride.
With contributions from:
Ivana Bartoletti, chair of the Fabian Women's Network and founder of its magazine Fabiana.
Lisa Clarke, member of the No More Page 3 campaign
Zita Holbourne, co-founder and national co-chair of BARAC UK
Natacha Kennedy, academic at Goldsmiths College and a trans activist
Lisa Nandy MP, Labour member of parliament for Wigan
Yas Nacati, 18 year old feminist activist and campaigner living in London
Fiona Mactaggart MP, Labour member of parliament for Slough
Sue Marsh, writer and disability campaigner who blogs at the Diary of a Benefit Scrounger
Kirsty McNeill, strategy consultant to some of the world's leading campaigning organisations
Anwen Muston, trans officer for LGBT Labour
Stuart White, director of the Public Policy Unit and an associate professor of politics at Jesus College, Oxford
Download

now
Fabian membership
Join the Fabian Society today and help shape the future of the left
You'll receive the quarterly Fabian Review and at least four reports or pamphlets each year sent to your door
Be a part of the debate at Fabian conferences and events and join one of our network of local Fabian societies
Join

the Fabian Society
Be the first to know
Sign up to the free Fabian Society newsletter
Find out about the latest Fabian Society research, publications and events with our regular updates
Sign

up today
Fabian

Society