Tax for our times: How the left can reinvent taxation
Tax reform needs to be put back in the hands of the many and this collection offers perspectives on reimagining tax for modern times.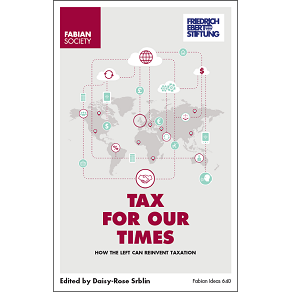 Tax for our times
4 August 2015
The UK's tax system isn't fit for purpose and specialists across the board agree on the need for reform. But for too long a serious conversation about tax has been hidden from the public, with the debate dominated by either political ruses or remote technocracy. Crucially, in a context where talking tax is seen as politically illegitimate, we have forgotten what tax is for.
This collection of essays explores how the left can reimagine the tax system for modern times, so that it is more progressive, more transparent and more efficient, and helps shape a fairer society and more productive economy.
In a globalised world, tax is no longer simply a question within national borders alone, so this collection draws on international comparisons throughout. Importantly it considers how to bring the public into the conversation. Tax reform should neither be locked away by politicians from public view, nor left to the expert few: it needs to be put back in the hands of the many.
With chapters by:
Fran Bennett, senior research and teaching fellow at the Department of Social Policy and Intervention, University of Oxford
Adam Corlett, economic analyst at the Resolution Foundation
Patrick Diamond, research director at Policy Network
Howard Glennerster, emeritus professor of social policy and an associate at the Centre for Analysis of Social Exclusion at the London School of Economics
Andrew Harrop, general secretary of the Fabian Society
Ann Mumford, reader in taxation law at Kings College London
Richard Murphy, director at Tax Research LPP and adviser to the Tax Justice Network and the Trade Union Congress
Faiza Shaheen and Beck Smith, Save the Children
Tony Travers, professor in the Department of Government at LSE and director of LSE London
---
Copies are also available priced £9.95 from the Fabian Society bookshop – call 020 7227 4900, email  or send a cheque payable to "The Fabian Society" to 61 Petty France, London, SW1H 9EU.
You can receive this publication free if you join the Fabian Society today. Once you become a member, you'll receive two free pamphlets immediately and will get a copy of the Fabian Review magazine and our latest pamphlet every quarter. Click here to find out more about joining the Fabian Society.
Download

now
How to purchase
Copies are available, priced £9.95, from the Fabian Society. Call 020 7227 4900, email or send a cheque payable to The Fabian Society to 61 Petty France, London, SW1H 9EU.
Fabian membership
Join the Fabian Society today and help shape the future of the left
You'll receive the quarterly Fabian Review and at least four reports or pamphlets each year sent to your door
Be a part of the debate at Fabian conferences and events and join one of our network of local Fabian societies
Join

the Fabian Society
Be the first to know
Sign up to the free Fabian Society newsletter
Find out about the latest Fabian Society research, publications and events with our regular updates
Sign

up today
Fabian

Society