The Age of Trump: Foreign policy challenges for the left
Donald Trump's tenure in the White House throws up fresh challenges for the world. How should the left - in Britain and beyond - approach this new era?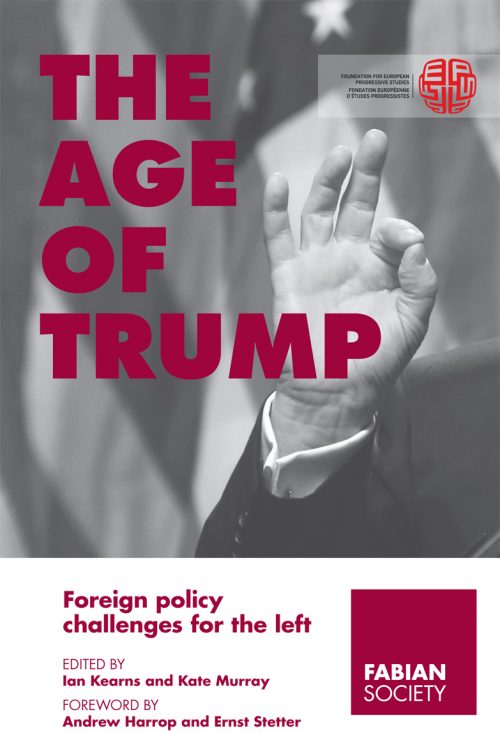 The Age of Trump
13 April 2017
The first months of Donald Trump's presidency have been turbulent ones. We have come to expect the unexpected from the showman in the White House and his team. How should the left respond in these uncertain times? How does a progressive vision for the world fit with the challenges we now face?
This collection of essays aims to set out some ways forward. In it, policy experts in the UK, Europe and the US, outline some of the most pressing issues we face, from climate change to nuclear proliferation and from conflict in the Middle East to international aid. They highlight how the Trump administration might bring its influence to bear in these areas, and how we need to respond.
Edited by Ian Kearns and Kate Murray. Foreword by Andrew Harrop and Ernst Stetter. With chapters by Steve Andreasen, Liz Gallagher, Ken Gude, Ian Kearns, Lina Khatib, Darryl Kimball, Laura Kyrke-Smith, Vassilis Ntousas, Andrew Small and Emily Thornberry MP
You can receive this publication free if you join the Fabian Society today. Once you become a member, you'll receive two free pamphlets immediately and will get a copy of the Fabian Review magazine and our latest pamphlet every quarter. Click here to find out more about joining the Fabian Society. 
Copies are also available priced £9.95 from the Fabian Society bookshop – call 020 7227 4900, email or send a cheque payable to "The Fabian Society" to 61 Petty France, London, SW1H 9EU.
Download

now
How to purchase
Copies are available, priced £9.95, from the Fabian Society. Call 020 7227 4900, email or send a cheque payable to The Fabian Society to 61 Petty France, London, SW1H 9EU.
Fabian membership
Join the Fabian Society today and help shape the future of the left
You'll receive the quarterly Fabian Review and at least four reports or pamphlets each year sent to your door
Be a part of the debate at Fabian conferences and events and join one of our network of local Fabian societies
Join

the Fabian Society
Be the first to know
Sign up to the free Fabian Society newsletter
Find out about the latest Fabian Society research, publications and events with our regular updates
Sign

up today
Fabian

Society