The Generation Game: Spending priorities for an ageing society
Ideas from the three main parties on addressing the challenges of our ageing society.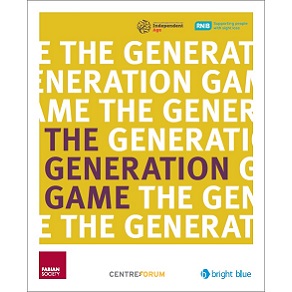 The Generation Game
21 September 2015
Jointly published by three think tanks from across the political spectrum – the Fabian Society, Bright Blue and CentreForum – The Generation Game calls for radical new measures to tackle the challenges of an ageing population.
We are now entering a key period in UK politics, the outcome of which will shape the health and welfare landscape for older people for the next five years at least – and possibly for a lot longer. The party conferences of 2015 fall between an election, at which gaining the older vote was a target for all the parties, and the autumn spending review, which will set in stone the priorities revealed in the recent summer budget.
Chancellor George Osborne must strike the right balance in his spending review, the authors argue, and show how the new government plans to fairly balance the needs of older people against other sectors of society.
Featuring contributions from: 
Baroness Sally Greengross, a crossbench peer and chief executive of the International Longevity Centre UK – you can read her introduction to the report here
Rt Hon David Willetts, executive chair of the Resolution Foundation and the author of The Pinch: How the Baby Boomers took their children's future – and why they should give it back
Paul Burstow, the health minister responsible for crafting the Care Act
Dame Clare Tickell, chief executive of Hanover housing association
Claudia Wood, chief executive of Demos
Andrew Harrop, general secretary of the Fabian Society
Ryan Shorthouse, founder and chief executive of Bright Blue
Chris Curry, director of the Pensions Policy Institute (PPI)
Debbie Abrahams, Labour MP for Oldham East and Saddleworth and Shadow Minister for Disabled People
George Freeman, Conservative MP for Mid Norfolk and Minister for Life Sciences
Dr John Pugh, Liberal Democrat MP for Southport
Read the publication in full here. 
Download

now
Fabian membership
Join the Fabian Society today and help shape the future of the left
You'll receive the quarterly Fabian Review and at least four reports or pamphlets each year sent to your door
Be a part of the debate at Fabian conferences and events and join one of our network of local Fabian societies
Join

the Fabian Society
Be the first to know
Sign up to the free Fabian Society newsletter
Find out about the latest Fabian Society research, publications and events with our regular updates
Sign

up today
Fabian

Society