Waste Not, Want Not: How fairness concerns can shift attitudes to food waste
Each year one third of all food bought by UK households is thrown away, which has a huge environmental and economic impact. But new focus group work conducted by the Fabian Society found that to get people to be more thrifty with their food habits, big supermarkets need to take the lead. By Natan Doron May 2012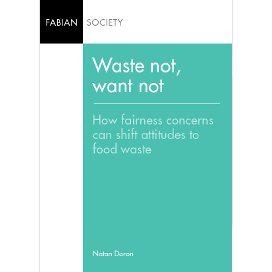 Waste Not, Want Not
16 May 2012
While individuals observe wasteful behaviours in others, they rarely reflect on their own lifestyles as contributing to the problem of food waste but information about the wider social and environmental context of food waste leads to a concern with the behaviour of others. This concern can be a powerful driver of more progressive attitudes to food waste.
To address these concerns the author recommends that supermarkets should be publicly graded on their food waste performance to encourage a race to the top amongst major chains.
Each year one third of all food bought by UK households is thrown away, which has a huge environmental and economic impact. But new focus group work conducted by the Fabian Society found that to get people to be more thrifty with their food habits, big supermarkets need to take the lead.
The reality is that most supermarkets are actually doing something about their food waste problem. Some of them are even publishing transparent accounts of what they waste and are setting out the steps they are taking to reduce this. But other supermarkets decline to comment when asked about how much they are throwing away. The transparent publication of supermarket food waste information would build on a recent increase in effective campaigning on food waste.
Furthermore, the report recommends that celebrity chefs could be very effective in raising awareness, drawing on the success of Jamie Oliver in improving school meals.
Mary Creagh MP, Labour's Shadow Secretary of State for Environment, Food and Rural Affairs said:
"Britain is the seventh richest national in the world yet we face a growing epidemic of hidden hunger, particularly in children  The reality of parents unable to feed their children whilst food goes to waste is one of the starkest examples of the squeeze on living standards faced by many British families."
---
You can buy a printed copy edition of Waste not, Want Not: how fairness concerns can shift attitudes to food waste for £5.00, plus£1 p+p, by phoning the Fabian Society bookshop on 020 7227 4900, emailing us at bookshop@fabian-society.org.uk or send a cheque payable to "The Fabian Society" to 11 Dartmouth Street, London, SW1H 9BN.
You can receive this publication free if you join the Fabian Society today. Once you become a member, you'll receive two free pamphlets immediately and will get a copy of the Fabian Review magazine and our latest pamphlet every quarter. Click here to find out more about joining the Fabian Society.
Download

now
How to purchase
Copies are available, priced £9.95, from the Fabian Society. Call 020 7227 4900, email or send a cheque payable to The Fabian Society to 61 Petty France, London, SW1H 9EU.
Fabian membership
Join the Fabian Society today and help shape the future of the left
You'll receive the quarterly Fabian Review and at least four reports or pamphlets each year sent to your door
Be a part of the debate at Fabian conferences and events and join one of our network of local Fabian societies
Join

the Fabian Society
Be the first to know
Sign up to the free Fabian Society newsletter
Find out about the latest Fabian Society research, publications and events with our regular updates
Sign

up today
Fabian

Society