Where next?: Reforming social security over the next 10 years
A revolution in social security is needed after the general election including a 1-year emergency plan and a 10-year blueprint for reform, according to a new Fabian Society report published after 9 months of consultation.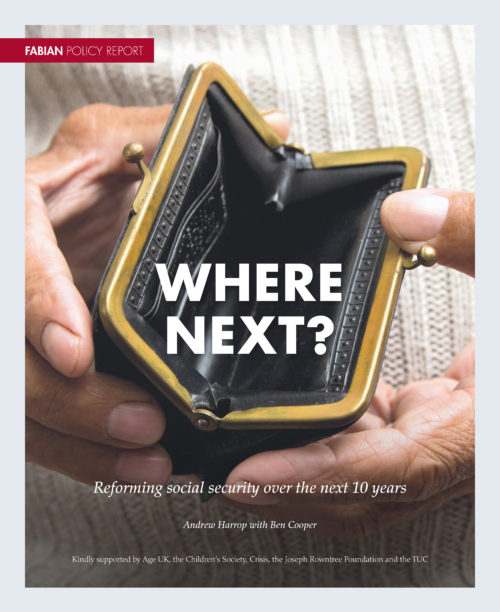 The UK is scarred by poverty and our social security system is in crisis. 15 million people in the UK are expected to be living in poverty in 2020 including 2 million pensioners and over 4 million children. So where do we go from here? This report asks how politicians should set about mending social security and tackling poverty over the next 10 years.
It draws on evidence and insights from a Fabian Society research project that included commissioned expert articles, a half-day policy summit and a series of listening events with people in receipt of social security.
The report presents a 'People's Charter' for social security to bring security, respect, simplicity, consistency and support. It also proposes 9 steps to reform social security over the next decade:
1. Act fast with immediate reforms
2. Pursue clear aims and fight poverty first
3. Respond to the future
4. Build a people-led system
5. Create consistent, adequate payments
6. Imagine a new working-age household credit
7. Reinvent universal and contribution-based payments
8. Slash in-work poverty and support employment
9. Pledge new fiscal rules to grow social security spending
The report is supported by Age UK, the Children's Society, Crisis, the Joseph Rowntree Foundation and the TUC. It is the final stage of the Fabian Society's project Poverty and Social Security: Where Next? 
Download

now
How to purchase
Copies are available, priced £9.95, from the Fabian Society. Call 020 7227 4900, email or send a cheque payable to The Fabian Society to 61 Petty France, London, SW1H 9EU.
Fabian membership
Join the Fabian Society today and help shape the future of the left
You'll receive the quarterly Fabian Review and at least four reports or pamphlets each year sent to your door
Be a part of the debate at Fabian conferences and events and join one of our network of local Fabian societies
Join

the Fabian Society
Be the first to know
Sign up to the free Fabian Society newsletter
Find out about the latest Fabian Society research, publications and events with our regular updates
Sign

up today
Fabian

Society