Framing the Future: A new pensions commission
A joint report from the Fabian Society and Bright Blue calls for a new pensions commission and presents plans for how it should work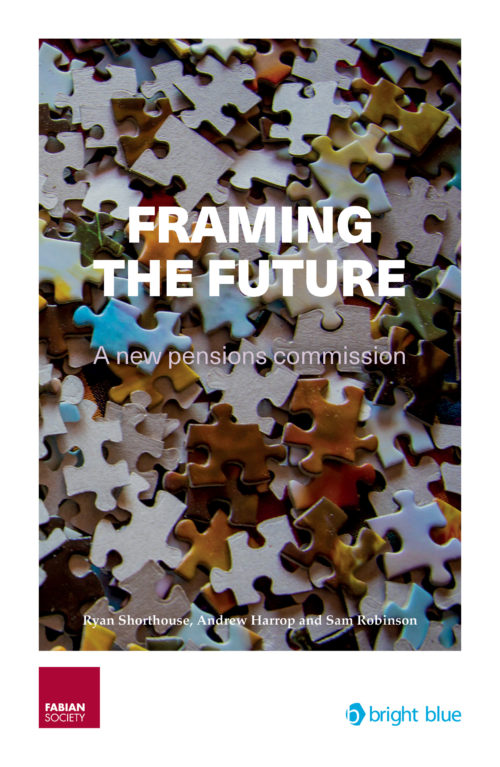 Framing the Future
17 January 2020
The Fabian Society and Bright Blue have come together again to make the case for cross-party consensus on ambitious and necessary reforms to pensions policy. Although the outcome of the latest general election has transformed the politics of this country, both organisations still passionately believe that a consensual, cross-party approach to policymaking is likely to lead to the achievement of difficult but desirable reforms in the long-term.
In this latest report, we seek to establish whether there are strong arguments for a new pensions commission and to consider what form any new commission might take. We found broad support for a new commission, including from the current Pensions Minister and Shadow Pensions Minister, and conclude there is sufficient consensus to launch a new pensions commission in 2020.
The research was kindly supported by The People's Pension.
Download

now
How to purchase
Copies are available, priced £9.95, from the Fabian Society. Call 020 7227 4900, email or send a cheque payable to The Fabian Society to 61 Petty France, London, SW1H 9EU.
Fabian membership
Join the Fabian Society today and help shape the future of the left
You'll receive the quarterly Fabian Review and at least four reports or pamphlets each year sent to your door
Be a part of the debate at Fabian conferences and events and join one of our network of local Fabian societies
Join

the Fabian Society
Be the first to know
Sign up to the free Fabian Society newsletter
Find out about the latest Fabian Society research, publications and events with our regular updates
Sign

up today
Fabian

Society