Life Lessons: A National Education Service that leaves no adult behind
Life Lessons examines how Labour should deliver on its promise to create a free, universal 'cradle to grave' education system.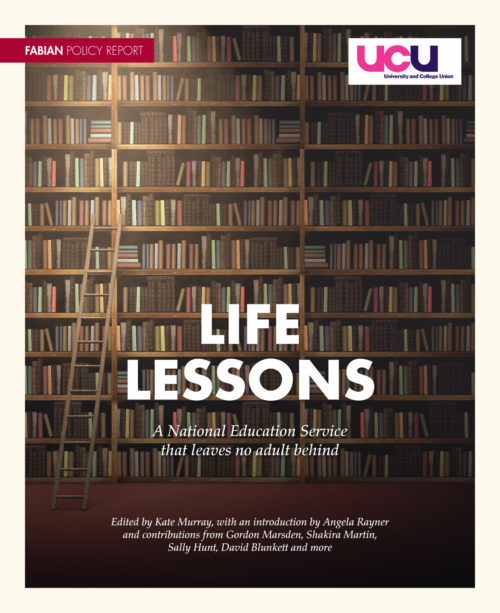 Life Lessons
24 January 2018
Life Lessons, published today by the Fabian Society in partnership with the University and College Union, examines how Labour should deliver on its promise to create a free, universal 'cradle to grave' education system.
People will always remember Labour's 2017 election campaign for the party's promise to scrap undergraduate tuition fees. But Labour's pledge of free higher education was just the standout feature of a broader vision for an integrated nationwide system of education for all, free at the point of need – the National Education Service. Now, with Labour drawing closer to power, it is time for the left to turn stirring words into a practical blueprint.
The report features an introduction from shadow education secretary, Angela Rayner MP and contributions from experts in further and higher education, including shadow minister Gordon Marsden MP, former education and employment secretary Lord Blunkett and leading figures from the NUS, UCU, Open University the Learning and Work Institute.
Between them the report contributors argue for a National Education Service that is:
Accountable – democratically account­able and open at every level
Devolved – with local decision-making which delivers coherent, integrated local provision, albeit within a national framework
Empowering – ensuring that learners, employees and institutions are all ena­bled and respected
Genuinely lifelong – with opportu­nities for retraining and chances to re-engage at every stage, and parity for part-time and digital distance learning
Coordinated – flexible pathways for learners between providers and strong partnerships involving providers, employers, unions and technology platforms
Outcome-focused – designed to meet social and economic needs, with far more adults receiving productivity-en­hancing education but also recognising that learning brings wider benefits
The report also suggests that the ultimate price-tag for the new service may be more than Labour pledged in its 2017 manifesto.
Download

now
How to purchase
Copies are available priced £4.95 from the Fabian Society bookshop – call 020 7227 4900,
email
or send a cheque payable to "The Fabian Society" to 61 Petty France, London, SW1H 9EU.
Fabian membership
Join the Fabian Society today and help shape the future of the left
You'll receive the quarterly Fabian Review and at least four reports or pamphlets each year sent to your door
Be a part of the debate at Fabian conferences and events and join one of our network of local Fabian societies
Join

the Fabian Society
Be the first to know
Sign up to the free Fabian Society newsletter
Find out about the latest Fabian Society research, publications and events with our regular updates
Sign

up today
Fabian

Society