A New Collectivism: How private sector trade unions can innovate and grow
With trade union membership falling, we need to work out how we reform trade unionism for the 2020s.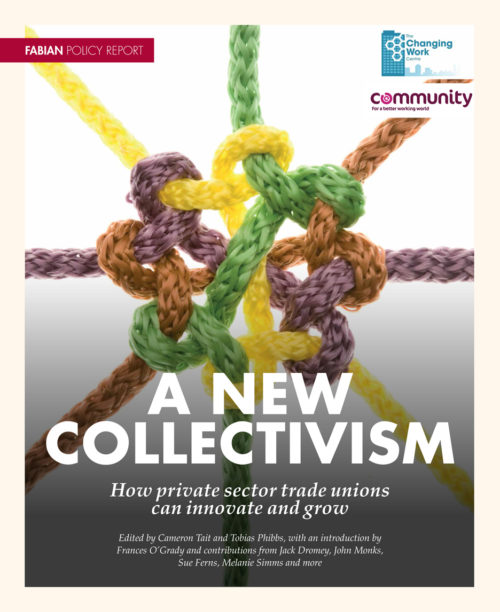 A New Collectivism
17 January 2018
A New Collectivism is a multi-author report on how trade unions can modernise to meet the challenges of the changing world of work. It is a follow-up to our hotly debated report on the future of the union movement in Britain.
The report features an introduction from the current general secretary of the TUC Frances O'Grady setting out the need for unions to change their practices and a challenging joint chapter from former trade union leader John Monks and Labour's shadow minister for unions Jack Dromey MP setting out how a new model of trade unionism would work.
The report includes chapters from leading trade unionists from across the movement (including senior officers from UNISON, Usdaw, Prospect, Community and the Musicians' Union), as well leading thinkers on the left.
Frances O'Grady – Introduction
Cameron Tait – Towards a membership renaissance
Jack Dromey and John Monks – A radical agenda for trade unions in the private sector
John Hannett – Going for growth
Kay Carberry – Working together
Naomi Pohl – Diversity in everything we do
David Arnold – Creating the conditions to deliver for the low-paid
Sue Ferns – How do unions eat the digital elephant? One bite at a time
Lauren Crowley – Workers doing it for themselves
David Coats – Trade unions and the state
Melanie Simms – Getting the policy context right
Download

now
How to purchase
Copies are available priced £4.95 from the Fabian Society bookshop – call 020 7227 4900,
email
or send a cheque payable to "The Fabian Society" to 61 Petty France, London, SW1H 9EU.
Fabian membership
Join the Fabian Society today and help shape the future of the left
You'll receive the quarterly Fabian Review and at least four reports or pamphlets each year sent to your door
Be a part of the debate at Fabian conferences and events and join one of our network of local Fabian societies
Join

the Fabian Society
Be the first to know
Sign up to the free Fabian Society newsletter
Find out about the latest Fabian Society research, publications and events with our regular updates
Sign

up today
Fabian

Society