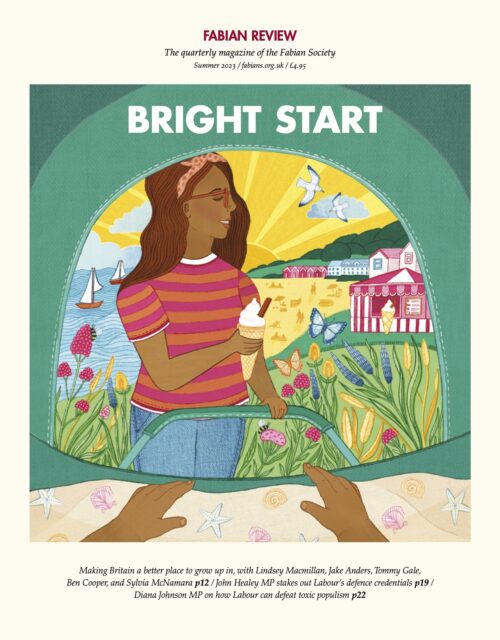 This edition of the Fabian Review focuses on how to make Britain a better place to grow up in, with contributions from Lindsey Macmillan and Jake Anders, Tommy Gale, Ben Cooper, and Sylvia McNamara. Tim Bale explores what might be next for the Tories, and John Healey MP stakes out Labour's defence credentials in conversation with Iggy Wood.
Also in this issue: Paulette Hamilton MP on the NHS's 75-year anniversary; Unmesh Desai calls for a royal commission on policing; Martin Edobor on bridging the urban-rural divide; Jessie Cunnett on a new contract with the NHS; Matt Bevington on regulatory reform; Ian Murray on winning back Scotland; Diana Johnson MP on fighting populism; Hannah McHugh on Labour and freedom; Beccy Cooper on how Labour won Worthing; Jonathan Birch on animal welfare; Stewart Lansley reviews Daniel Chandler's new book; and Niall Devitt examines the Fabian roots of London's transport network.
Download

now
How to purchase the Fabian Review
You can receive this publication free if you join the Fabian Society today. Once you become a member, you'll receive two free pamphlets immediately and will get a copy of the Fabian Review magazine along with at least four pamphlets a year.
Copies are also available priced £4.95 from the Fabian Society bookshop – call 020 7227 4900, email or send a cheque payable to "The Fabian Society" to 61 Petty France, London, SW1H 9EU.
Fabian membership
Join the Fabian Society today and help shape the future of the left
You'll receive the quarterly Fabian Review and at least four reports or pamphlets each year sent to your door
Be a part of the debate at Fabian conferences and events and join one of our network of local Fabian societies
Join

the Fabian Society
Be the first to know
Sign up to the free Fabian Society newsletter
Find out about the latest Fabian Society research, publications and events with our regular updates
Sign

up today
Fabian

Society