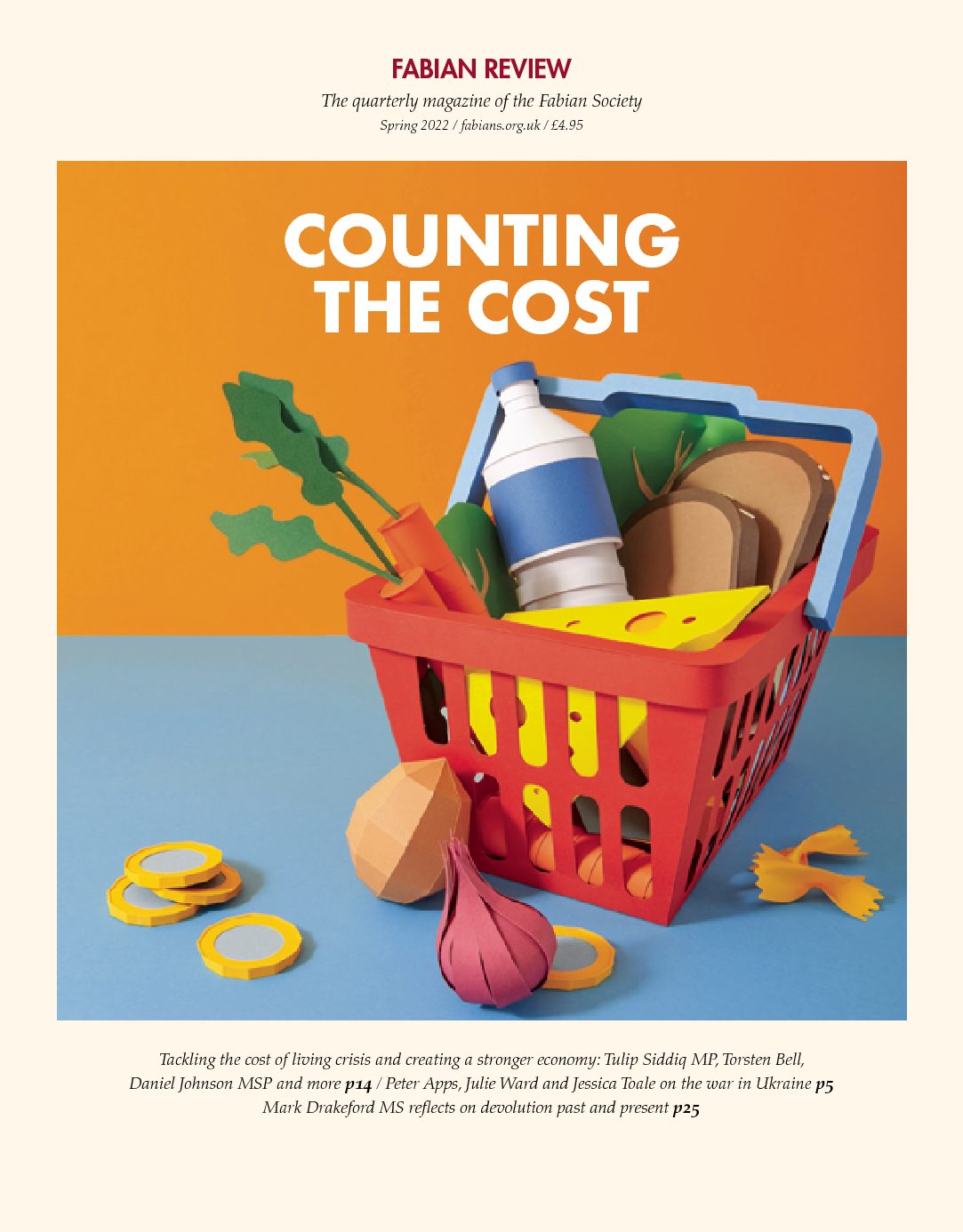 Spring 2022
12 April 2022
This edition of the Fabian Review looks at the cost of living crisis and how Labour creates a stronger economy, featuring Torsten Bell, Shreya Nanda, Aveek Bhattacharya, Jake Shepherd, Claire Walker, Zoë Billingham, Daniel Johnson MSP, Jeevun Sandher and Tulip Siddiq MP. Plus, Peter Apps, Jessica Toale and Julie Ward on the war in Ukraine and what it means for our foreign policy agenda. And Vanesha Singh speaks to Angela Smith, shadow leader of the House of Lords, about Labour's many victories in the upper chamber.
Also in this issue: Ellie Reeves MP on prisons; Mark Drakeford MS on the future of devolution; Sonia Adesara sets out a new vision for the NHS; and Hannah White on 'partygate'.
Download

now
How to purchase the Fabian Review
You can receive this publication free if you join the Fabian Society today. Once you become a member, you'll receive two free pamphlets immediately and will get a copy of the Fabian Review magazine along with at least four pamphlets a year.
Copies are also available priced £4.95 from the Fabian Society bookshop – call 020 7227 4900, email or send a cheque payable to "The Fabian Society" to 61 Petty France, London, SW1H 9EU.
Fabian membership
Join the Fabian Society today and help shape the future of the left
You'll receive the quarterly Fabian Review and at least four reports or pamphlets each year sent to your door
Be a part of the debate at Fabian conferences and events and join one of our network of local Fabian societies
Join

the Fabian Society
Be the first to know
Sign up to the free Fabian Society newsletter
Find out about the latest Fabian Society research, publications and events with our regular updates
Sign

up today
Fabian

Society