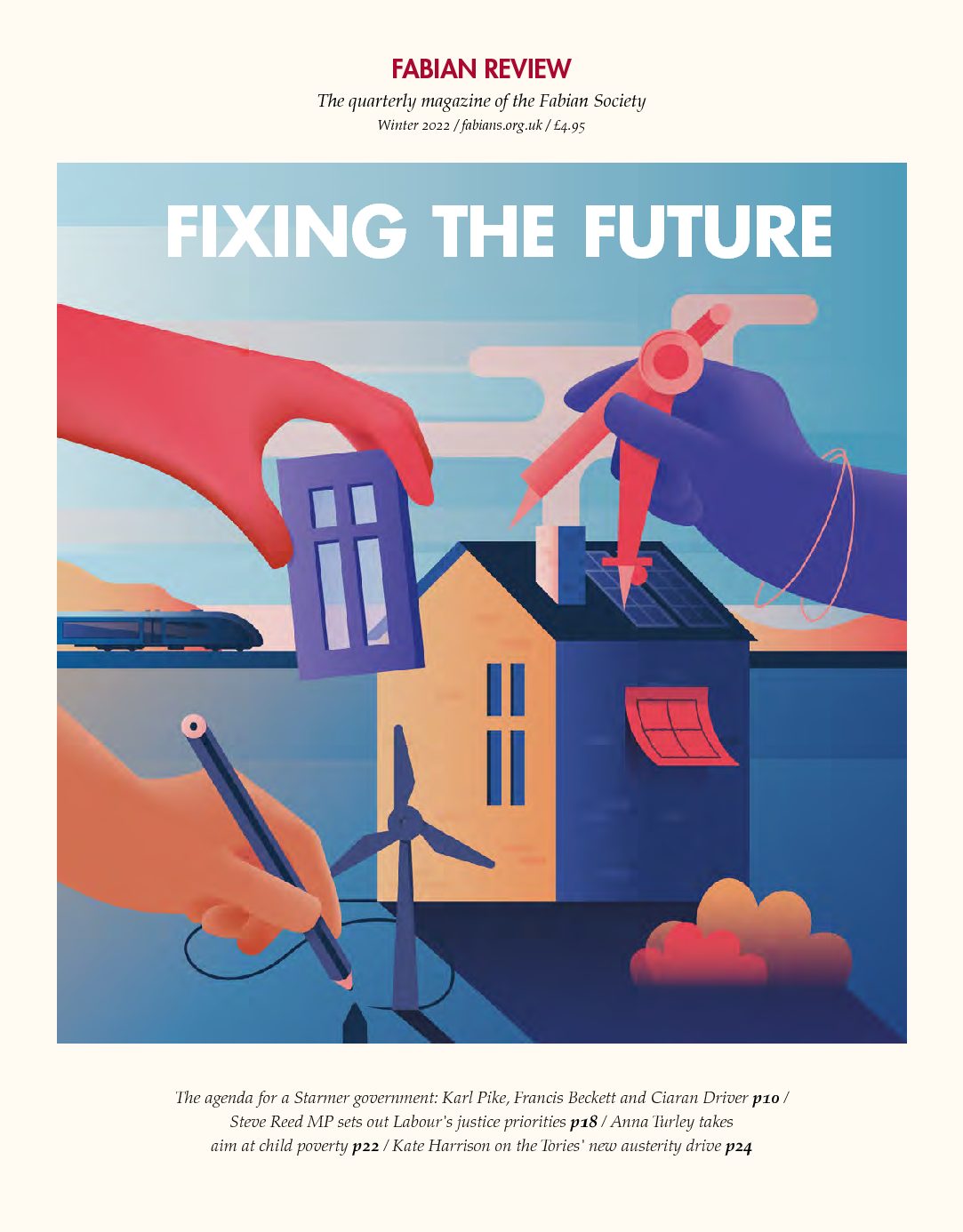 Winter 2022
22 December 2022
This edition of the Fabian Review explores the long-term change a Starmer government could deliver, with contributions from Karl Pike, Francis Beckett and Ciaran Driver. Anna Turley takes aim at child poverty, and Kate Harrison examines whether austerity can be sold to the public for a second time. Plus, Steve Reed MP sets out Labour's justice priorities.
Also in this issue: Rushanara Ali MP on Labour's plan for mortgage-holders; Thom Brooks on fraud; Eloise Sacares on student maintenance loans; David Arnold on securing pay growth; Nick Plumb on high street renewal; Osama Bhutta on the cost of renting; Anna Dixon on social care reform; Kelly Grehan on the chaos in our public services; and Josephine Harmon on globalisation and the left.
Download

now
How to purchase the Fabian Review
You can receive this publication free if you join the Fabian Society today. Once you become a member, you'll receive two free pamphlets immediately and will get a copy of the Fabian Review magazine along with at least four pamphlets a year.
Copies are also available priced £4.95 from the Fabian Society bookshop – call 020 7227 4900, email or send a cheque payable to "The Fabian Society" to 61 Petty France, London, SW1H 9EU.
Fabian membership
Join the Fabian Society today and help shape the future of the left
You'll receive the quarterly Fabian Review and at least four reports or pamphlets each year sent to your door
Be a part of the debate at Fabian conferences and events and join one of our network of local Fabian societies
Join

the Fabian Society
Be the first to know
Sign up to the free Fabian Society newsletter
Find out about the latest Fabian Society research, publications and events with our regular updates
Sign

up today
Fabian

Society